A Local's Guide to Hawaii's Must-See Beaches
You won't find Waikiki or Lanikai on this list.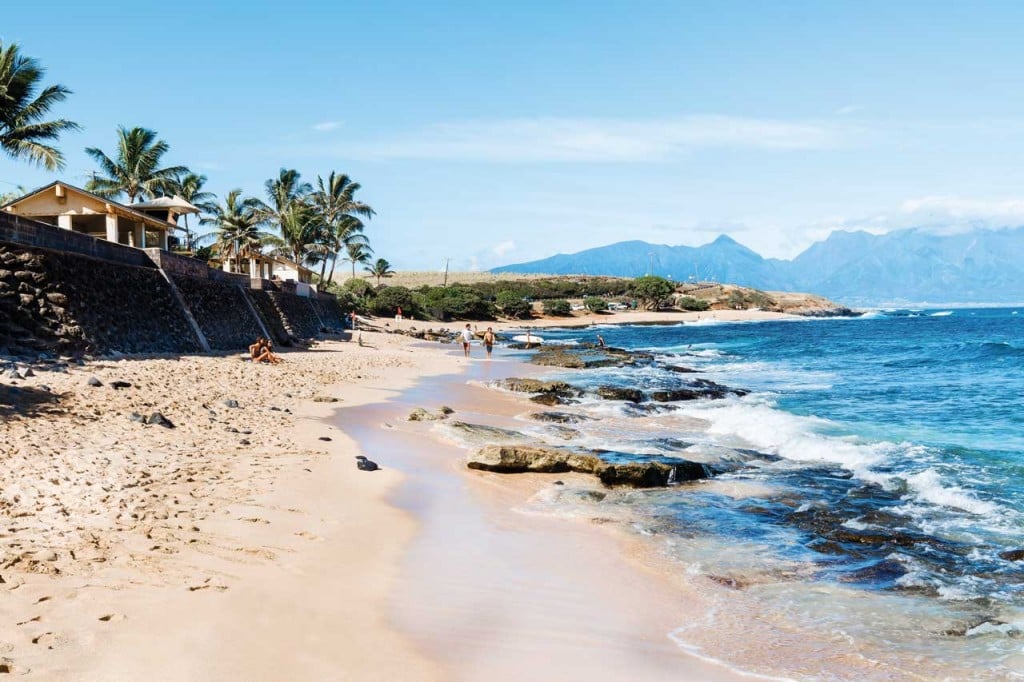 Editor's Note, March 9, 2021: Due to COVID-19, access to some of these beaches and parks may have changed. Polihale State Park on Kauaʻi is currently only open for day use; camping is not permitted at this time. Information changes and we'll do our best to keep our archive content updated.
You won't find Waikiki or Lanikai on this list. These beaches are the local favorites, where families picnic and camp, where teens hang out and bodyboard, and where residents disappear to on weekends to escape the masses. Categorized by island, the list was collected from our friends, family members and selves, who answered, "Which beach do you like to frequent?"
Maui
Right off Hana Highway, Hookipa Beach is an ocean lover's paradise. Past the shining sands are clear waters and a reef teeming with life, making flat days the opportune time to bust out the snorkeling gear. As the north swell hits, the island's surfers and windsurfers arrive in droves. Just in front of the beach's main pavilion is a world-class surf break, appropriately named Pavilions, and as the winds rise, the colorful sails of windsurfers riding the waves can be seen down the coast. Hana Hwy., Paia, Maui.
Travel south of Wailea to Makena Beach, or Big Beach, as it's more commonly known, for its broad, sandy expanse, where there's plenty of space to lay out and enjoy the sun and crashing waves. The more adventurous (read: allergic to clothes) can head to the north end and follow the trail over the rocky outcrop to Little Beach, a, well, littler beach that's popular among nudists. On Sundays, join revelers in a drum circle at sunset. 6600 Makena Rd., Maui.
Hidden between the resort towns of Kaanapali and Kapalua, with views of Molokai, is Napili Beach, a crescent-shaped bay north of Lahaina. Napili, Maui.
Pitching your tent or renting a cabin at Waianapanapa State Park takes the camping experience to a different level. Just a few steps from the verdant, grassy campsite lies one of Maui's best-known treasures: the glistening black sands of Pailoa Beach. Follow the well-marked Kipapa O Kihapiilani Trail, west or east toward Hana along the rugged black lava shoreline for stunning, surreal views of a native hala forest, sea arches, tide pools and coves with remarkable aqua-colored water. Permits required. End of Waianapanapa Rd., Hana, Maui, (808) 984-8109. 
Oahu
Sandy Beach Park has been a favorite local spot for generations. The parking lot is packed with cars blasting rap or reggae. Adept bodysurfers will have a blast in the constant shorebreak and barrels, but only experienced swimmers should enter the water. The lifeguards will tell you so. 8808 Kalanianaole Hwy., Honolulu, Oahu.
Named after Doris Duke's first husband, Cromwell's is a hidden jewel of a beach in Kahala. When you reach the water, turn right and keep going. There's more beach to be found (as seen on this magazine's cover). Enter at Kulamanu Pl., Honolulu, Oahu.
Kauai
Anini Beach is one of the calmest on Kauai's north shore, thanks to a long, offshore reef that creates a haven for snorkelers and swimmers. And because it's off the main highway—take Anini Road through a residential neighborhood to get here—this sandy stretch is often quiet and uncrowded. Camping permits are available so you can maximize your stay. Anini Rd., Kauai. 
Escape down a rough, 5-mile dirt road to Polihale State Park, at the western edge of the Napali Coast, to the longest stretch of beach in Hawaii. Few people make the trip here, so set up camp and spend the night (or two), for a beach and sunset that feels like it's all yours. Permits Required. Hwy. 50, Waimea, Kauai.
Hawaii Island
Spencer Beach Park has what locals love: a beach, shady picnic tables, barbecue pits, restrooms, a big pavilion, campgrounds and a temple dedicated to the war god Ku (Puukohola Heiau). Kawaihae Rd., Waimea, Hawaii Island, (808) 961-8311,
hawaiicounty.gov/parks-and-recreation.
Lanai
Once you've reached Keahiakawelo (aka Garden of the Gods) and stopped to take in its magnificent beauty, navigate your Jeep down the mountain toward Lanai's northwestern coast where secluded Polihua Beach lies. The jostling, bumpy drive will keep you entertained, and the wide-open white sands with nobody on them and a view of Molokai (Diamond Head, too, on a clear day) will be your reward. Ask your concierge for directions, Lanai.
Holupoe Beach Park has to be the closest campground to a Nobu and Four Seasons anywhere. Set up camp next to the soft, white-sand beach near Puu Pehe (aka Sweetheart Rock). It feels secluded, even with the hotel close by, which is handy if you need supplies, or maybe dinner at Nobu (tent to table dinner, anyone?). The beach campsites are reserved for locals, but the grassy area is available for nonresidents. Permits Required. 81 Kapihaa Place, Lanai, lanai96763.com.