A Regenerative Getaway for the Soul
We've found a Hilo hotel that caters to your body, mind and spirit.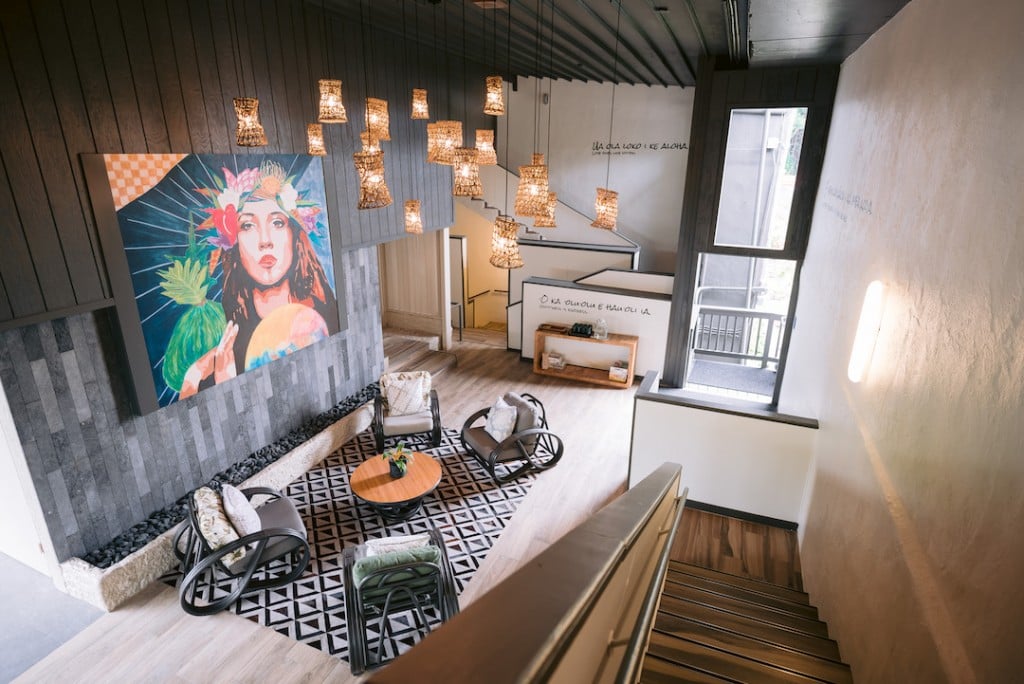 Hawai'i has long had a reputation for top-notch hospitality, with great service, friendly smiles, attention to detail, and, of course, the spirit of aloha. Enter SCP Hilo Hotel, a newly renovated 128-room property, which steps up hospitality to the max by focusing not only on its guests, but on the community and even the planet. A stay here will make you feel good from the inside out, like a sunrise dip in the blue Pacific or a warm hug from tūtū (grandma).
When you enter the open-air lobby at SCP Hilo Hotel, you can't miss the major laid-back vibe. Hammock chairs overlook the koi pond, Instagram-worthy floral lei murals by a local artist adorn the walls, and locally made kombucha flows from the tap at the front desk, which is complimentary at check-in. You'll notice other guests working on laptops, mingling on the sofa and grabbing local snacks from the all-vegetarian Provisions Market. On your way to your room, stop to browse the lending library where you can explore the hotel's collection of thrifted and cultural books, available for guests to borrow and return for future travelers to enjoy.
If you've opted for an electronics-free Peaceful Room, expect to find an oil-diffuser and yoga mat inside—and plenty of time to meditate or just listen to the soft tropical rain (typical of Hilo), coqui frogs and birds. After a day of travel, you'll want to refresh yourself with a dip in the pool, and maybe give a nod of gratitude to the Buddha statue at pool's edge, crafted by local artisans.
If you prefer a sweat session to wind down, hop on one of on a Peloton bike in SCP Fit or explore the town on bicycles that you can use free of charge. SCP Hilo Hotel is a gateway for nearby natural wonders and cultural treasures, such as historic Hilo town, Mokupāpapa Discovery Center, dramatic waterfalls and awe-inspiring Hawai'i Volcanoes National Park.
SCP Hilo Hotel also extends its hospitality to the surrounding community and environment. Thanks to the Pristine Makai program and the Hawai'i Wildlife Fund, your stay helps to restore makai (the seaside): Each visit results in the removal of 2.2 pounds of trash from local beaches. In addition, SCP donates to WE Well-being, Miracles for Kids and One Tree Planted with each stay.
And when it's time to check out, you only pay what you think the experience was worth. Yes, you read that right. In the spirit of continual self-improvement, the hotel backs up its promises on sustainability and next-level wellness with its Fair Trade Pricing program, just as long as you share some constructive criticism.