A Soulful 72 Hours in Hilo
Discover this seaside stop where Hawaiian culture surrounds and natural wonders astound.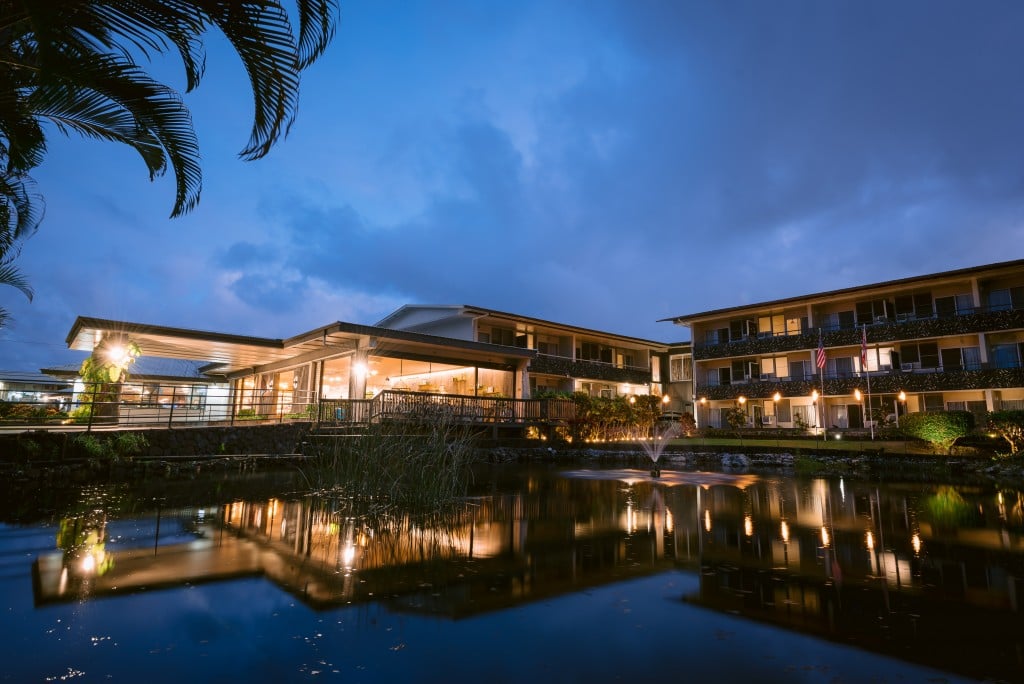 A lesser-known gem of the Hawaiian Islands, Hilo is situated around a crescent-shaped bay studded with charming shops, galleries and restaurants, and acts as a gateway to the wild side of Hawai'i Island (also known as the Big Island). Follow our must-do itinerary for a taste of authentic culture, local eats and active pursuits and you'll leave a different person than when you arrived.
Day 1
Check in at SCP Hilo Hotel, a newly renovated eco-friendly hotel on Banyan Way. With a koi pond, hammock chairs and a complimentary local kombucha drink, you'll feel a sense of aloha spirit here the moment you arrive. Admire the vibrant ʻōhia and gardenia lei wall murals as you walk to one of the mindful, minimalist-style guest rooms, the newly renovated ones featuring headboards and nightstands crafted by local woodworkers. If you really want to dive into a sense of place, opt for a Peaceful Room complete with an oil diffuser and yoga mat—and no distracting electronics.
To celebrate your arrival, treat yourself to a Pacific-focused meal at the popular neighborhood restaurant Moon & Turtle With an ever-changing menu of small plates from locally sourced ingredients, the experience is part education, part enchantment. Then fall asleep to the sounds of light rain and the call of the coqui frogs.
Day 2
Greet the day out on the water! Test your balance by borrowing a complimentary stand-up paddleboard from the hotel and gliding over Hilo Bay to Moku Ola, aka Coconut Island. From there you can watch the bustle of fishing boats and the town as it wakes up.
You've probably worked up an appetite, so head over to Paul's Place Cafe, a hidden gem with only six seats for craveable waffles and savory eggs Benedict. After you've had your fill, stroll through downtown Hilo to browse boutiques and galleries featuring Native Hawaiian art and crafts. Among the must-stop shops is Hana Hou, filled with intricately woven lau hala hats, purses and fans.
For a sweet snack, pay a visit to Two Ladies Kitchen for chewy mochi handmade in an array of rainbow colors with surprising fillings such as Oreo and brownie. Then spend the afternoon wandering the paths and arched bridges of Liliʻuokalani Gardens, less than a mile from the hotel; from there you can take in the tide pools and stellar views of Hilo Bay.
Day 3
Today is all about adventure seeking! Load up on locally made insect repellent and sunscreen at the Provisions Market in the lobby before venturing off to nearby Waiānuenue, also known as Rainbow Falls, an 80-foot roaring waterfall that plunges over a lava cave. If it's sunny, look for a rainbow to appear in the mist. You can also see another spectacular view from nearby O.K. Farms (okfarmshawaii.com), which spans nearly 1,000 acres along Hilo's historic Wailuku River. The family-run tropical farm offers tours of the falls and others in the area.
Continue your journey to Hawai'i Volcanoes National Park, a 45-minute drive, to explore two active volcanoes—Kīlauea and Mauna Loa. Hike around the crater rims, step into steam vents and disappear into dark lava tubes. Depending on conditions, stick around until dusk to view the eerie glow of the lava from the bottom of Halemaʻumaʻu Crater for an unforgettable experience that will stir your soul.
SCP Hilo, 126 Banyan Way, Hilo, (808) 935-0821, scphotel.com/hilo