A statue of Don Ho is now on view at the International Market Place in Waikiki
Don Ho's family, friends and fans celebrated the legendary Hawaiian entertainer's 87th birthday with stories, songs and plenty of aloha.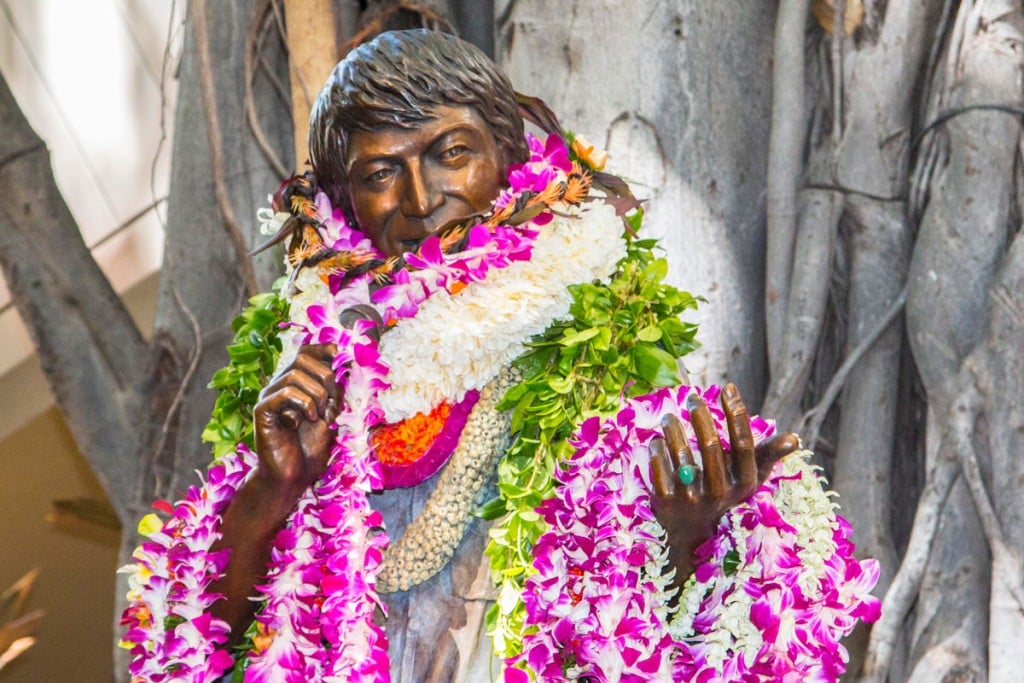 On August 13, hundreds of fans and onlookers packed all three levels of the main atrium at the International Market Place to watch the unveiling of a statue honoring the late Hawaiian musician Don Ho. The unveiling coincided with the legendary entertainer's 87th birthday and the shopping center's one-year anniversary.
The placing of the statue at the foot of the International Market Place's 160-year-old banyan tree is fitting, as Ho's popular Waikiki show played to packed rooms nearby at Duke Kahanamoku's Polynesian Restaurant and Supper Club in the '60s and '70s.
"Don was the essence of Hawaii, the embodiment of aloha," says his wife Haumea Ho. "This is Don's homecoming, to a place he loved dearly, and we are honored that through this memorial he will continue to share his aloha for decades to come."
Many old friends and fellow musicians participated in the celebration, regaling the crowd with memories of Ho's rascally side, and performing many of the tunes he made popular. Guests included Henry Kapono, Melveen Leed, Marlene Sai, Nina Kealiiwahamana, Kimo Kahoano, Nathan Aweau, Joe Mundo, Angel Pablo and James Dela Cruz. Also in attendance were Governer Ige and First Lady Dawn Amano-Ige, along with Ho's children, grandchildren and extended family members.
Designed by Kim Duffett, the 6-foot-4-inch, 300-pound bronze sculpture depicts Ho in the 1970s, and conveys his warmth and aloha spirit, not his physical size.