A visit to Eating House 1849, Kauai's new restaurant from Roy Yamaguchi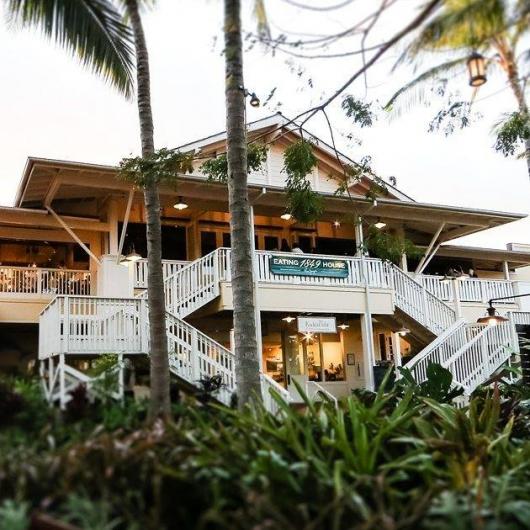 It's almost as if it wanted to be kept a secret. I'd traveled from the urban confines of Honolulu to Kauai, the western island in our chain, to visit a new restaurant hiding in plain sight within a resort shopping center on the south side of the Garden Island.
Past the canopy of trees on Maluhia Road and past the quaint town of Kōloa, I drove toward the south shore town of Poipu, where James Beard Award-winning chef Roy Yamaguchi has allowed a new concept to flourish—and it's (for now) the only restaurant 
of its kind.
Eating House 1849 is creatively different from the Roy's chain of restaurants you may be familiar with that are located around the U.S., Guam and Japan. Its name is a nod to Peter Fernandez, a Portuguese man, who is said to have opened the first restaurant in Honolulu around 1849, called Eating House, popular among Oahu plantation workers. Now, Yamaguchi has taken this piece of Hawaii history and turned it into an idea for a restaurant with a menu that pays homage to the plantation days of Hawaii, influenced by Filipino and Portuguese flavors, along with Japanese, Chinese, Hawaiian and Korean cuisines.
When I arrive, I notice the restaurant is busy for a Tuesday night. It's a little after sunset, and I had thought evening at The Shops at Kukuiula would be the same quiet shopping center as day. I was wrong. The restaurant is crowded and I am thankful I made a reservation.
"It's usually busier than this," the bartender says, as my friend and I pull up a seat at the bar and I order a Blushing Bride, an exclusive drink off its cocktail menu, while waiting for our table. It's clear while watching the bartender that he's a man who appreciates his craft, calmly measuring the sake, sweet and sour, jasmine liqueur and orange bitters. He then takes his time to garnish my glass with a twisted orange peel as if he's finishing off a work of art. The drink, I soon discover, is one of those perfectly concocted ones, tasting so good you forget there's alcohol in it. I order a second one before we are led to our table.
The restaurant is on the 
second floor of a large, plantation-style building (fitting for a plantation-influenced menu). The open floor plan feels spacious, even as we meander past many tables to our seats. The restaurant is buzzing with people, servers walk by us briskly, and large, picture windows let in a nice breeze. The lively, yet intimate, ambiance is one every restaurant hopes to achieve. The dark-wood interior alongside its modern furniture makes the restaurant feel casual and elegant. The focal point of the restaurant is the large kitchen filled with chefs surrounded by glass. It's easy to be distracted watching them prepare the food, but, right now, my focus turns to the menu just handed to me.
It's a one-page menu sectioned into three columns with a pupu (tapas) menu almost as long as its entrée selection, which means we're eating family-style tonight. The waiter explains there are a few items from Roy's restaurant on the menu, like the baby back ribs and the blackened island ahi, but I make a note to steer clear of them because I want to try what's new.
After we order, the pork and shrimp pot stickers come out first, wrapped and fried to a 
perfect crispness, drizzled with Korean chili vinaigrette and topped with garlic aioli. My friend, who devours his share before I finish my second one, loves them and is disappointed that there aren't more than five to a plate. I agree, it's delicious. The sauce is what makes this dish special with its blend of salty and sweet, making it a very addicting combination, but I have to remind myself that there are more plates coming.
Next is the Hapa Burger—half Kauai Makaweli beef and half wild boar patty, with Gouda cheese, lettuce, tomato and avocado. It's a piled-high burger that is too big for your mouth, so I bring out my knife and a solid hand to smash it together. I was told that this was one of the most popular dishes, so, messy or not, I have to try it.
"This is probably the best burger I've had," says my friend after taking one bite. While I would agree that it's probably one of the best burgers on Kauai, it's not the best I've had in Hawaii. It's missing a little bit of flavor and a juiciness to it that I prefer. But for diners looking for comfort food in the form of a burger, you really can't go wrong by ordering it because it's satisfying nonetheless.
What you really should be ordering, though, is a dish centered on the restaurant's theme, such as the Filipino-influenced Plantation Paella with tiger shrimp, clams, chicken, rice and Portuguese sausage, served in a cast iron skillet. It's not traditional paella I am told, but, instead, it's how Yamaguchi imagined paella would have been made back in Hawaii's plantation days. The stew is steaming hot, full of a smorgasbord of flavors, tasty and with just enough spice. It's a meal I can imagine would have been perfect to eat after a long day working hard in the field—comforting, filling and completely gratifying. I only wish I had saved enough room to finish it off, because everything in it tastes wonderful.
We also ordered the Tavern-Style Fried Chicken, mostly because it's not often you'll find fried chicken, mashed potatoes and country gravy on a restaurant menu in Hawaii so I thought it was worth a try. The mashed potatoes and gravy are spot on, but the crispy chicken, similar to the burger, is not as moist as I would like. And, while I don't see how this dish fits the Hawaii plantation era theme of the restaurant, it is a comfort-food dish that holds its own among the rest.
Dessert also arrived in a cast iron skillet. Roy's restaurant's signature chocolate soufflé was on the dessert menu, but I chose the Warm Apple Volcano instead. This apple pie dessert is a familiar one to anyone who had visited Roy's in Poipu before it closed early last year. It was exclusive to its menu, so, many people were sad when the dessert left along with it. But, after Eating House 1849 opened, guests requested it so much the restaurant finally added it to its dessert menu. I had to try what the public wanted so badly and I'm glad I didn't give in to my chocolate cravings in lieu of this amazing-looking pie sitting before me.
It's a miniature pie covered in caramel sauce, a scoop of Lappert's vanilla-bean ice cream and candied apple-skins sticking out of the top. I sink my fork into the pie, knowing I'm about to make a mess of this well-prepared plate, and watch as the warm filling pours out of its shell and mixes with the caramel and ice cream before scooping it up and into my mouth. On first taste, I immediately understand why so many people wanted this dessert back on the menu, and it's a bandwagon I am happy to jump on. Everything about this delicious apple pie lives up to its reputation.
After deciding against licking the skillet clean and finishing off the last of our drinks, I finally head out the door feeling very content with the night. Not only from the lengthy meal, but also knowing that Hawaii cuisine is getting another spin, and, with two more Eating House 1849 restaurants planned for Oahu, it's not going to be much of a secret any longer.
Open nightly for dinner 5 to 9:30 p.m. Reservations recommended. Shops at Kukuiula, 2829 Ala Kalanikaumaka Rd., Koloa, Kauai, (808) 742-5000, eatinghouse1849.com.
---
This article, "Back From the Past," was originally published in the January/February 2016 issue of HAWAIʻI Magazine.