A visual journey through Oahu's colorful North Shore culture
No wonder everyone loves the North Shore, with its abundance of eclectic eateries, boutiques, shave ice stands and surfing shops.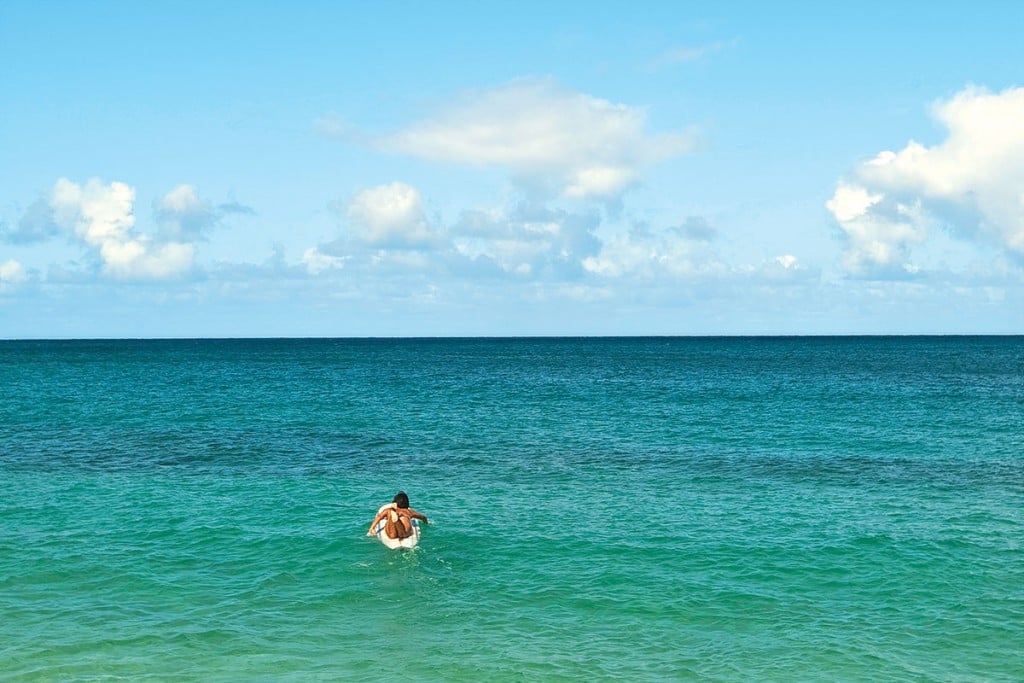 On winter days when swells born hundreds of miles away in the tempestuous North Pacific finally make landfall on the world-famous surf breaks of Oahu's North Shore, they provide a spectacle not to be missed.
Scores of professional surfers from Hawaii and around the world take to the churning ocean with hopes of snagging perfect rides that impress surf-contest judges. Thousands of resident and visitor spectators line the white-sand beaches and two-lane blacktop of Kamehameha Highway for the best up-close views of surf competitions.
Then there's the 13-mile coast's most remarkable sight: The North Shore's legendary big surf itself—massive, vertical wave faces cresting at heights of up to 40- to 50-feet before slamming with earth-shaking power onto the shoreline. An uncontrollable force of nature on unforgettable display.
But big winter surf months, between November and February, are hardly the only reason and season to make the drive out to Oahu's scenic North Shore from the island's more populous south side.
One of the best times to visit the North Shore, in our opinion, is summer. With pro contests like the Triple Crown of Surfing long completed, the coast's famous stretches of sand—Haleiwa Beach, Waimea Bay, Ehukai Beach, Sunset Beach, among them—offer more acreage for stretching out and taking in the ocean view. Waters are far calmer, allowing you to easily wade in for a swim or snorkel. And there also seems to be more time for comfortably exploring all that the North Shore's two main towns have to offer.
Haleiwa, with its abundance of eclectic eateries, homespun boutiques and markets, ever-busy shave ice stands, ocean activity businesses and, of course, surf-gear shops, is always a popular stop with visitors. But save a few hours to check out its neighbor down the coast, Waialua, a former sugar-mill town now home base for a growing community of entrepreneurs and artisans producing everything from world-class surfboards and silk-screen fashions to handmade soaps, chocolates and soda pop.
A popular North Shore credo, scribbled on yard signs and stamped on car bumper stickers, asks all who visit to "Keep the Country COUNTRY." The North Shore has only one major hotel—the 400-room Turtle Bay Resort, originally constructed in 1972—and no high-rise buildings, shopping malls or suburban sprawl to speak of. And it isn't just North Shore and Oahu residents who are largely in favor of keeping things this way for years to come.
"I can't imagine this area any other way. I really can't," says Gil Stross, slipping on a pair of fins and gazing at currently calm waters off Ehukai Beach—when surf is up, home to the famed Banzai Pipeline surf break. A self-proclaimed "Midwest soul surfer," Stross has been returning to the North Shore for winter waves almost annually since 1976.
"Some days I pick up a sandwich and smoothie from Waialua Bakery (66-200 Kamehameha Highway, Haleiwa, (808) 341-2838, waialuabakery.com) and just come here and sit, maybe take a dip. Days like today," says Stross. "The mountains behind me. The ocean in front of me. I don't need waves, man. I'm blessed with just this."
It's good to know we can all be as fortunate on the North Shore, just as easily.