Add Glassblowing at Moana Glass to Your Must-Do Maui Experiences
Classes in this ancient art form are accessible and enjoyable at Ryan Staub's Lahaina studio.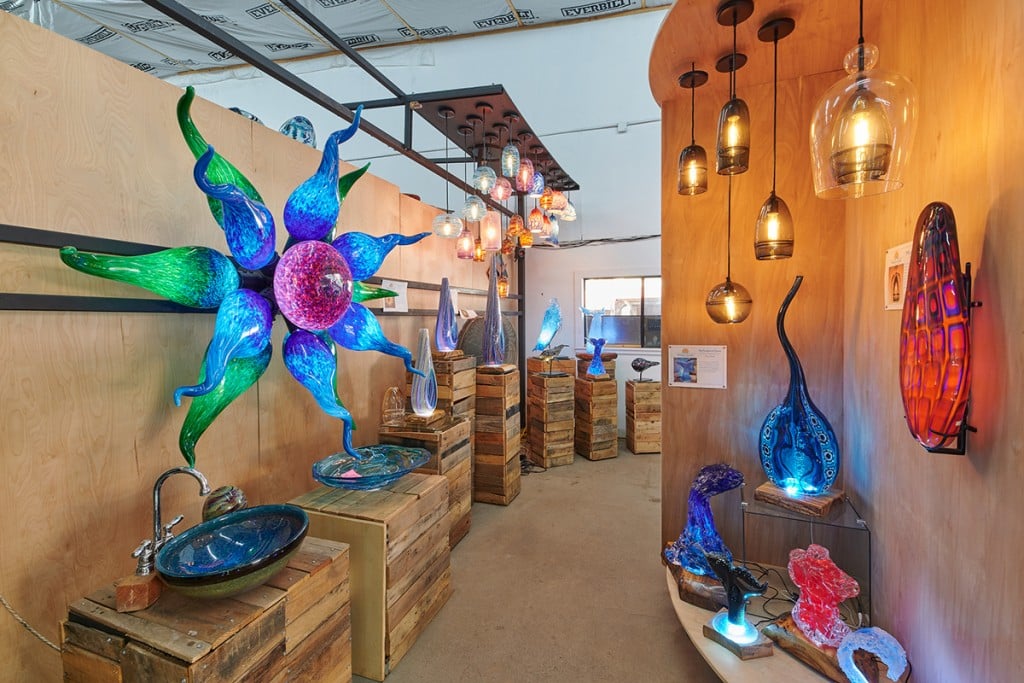 Going to the beach, walking historic Front Street and scanning the horizon for spouting whales during Hawaii's winter months are some of the activities most visitors to Lahaina look forward to during their stay in West Maui. But Ryan Staub wants to add another must-do experience to the itinerary for Lahaina: glassblowing.
Staub is the owner of Moana Glass, Lahaina's only furnace glassblowing studio. Staub, who grew up in Seattle, took his first glass-blowing class in 1997. In the past 22 years, he has blown glass in 11 countries and worked with many of the world's greatest master glassblowers. "Glass blowing changed the trajectory of my life completely; I was on track to go to medical school," he says. "I was hooked from my first time. … There are endless things you can learn."
He opened Moana Glass in 2017. "It's a great art community," he says. "I thought I could add to the community with a glassblowing studio."
At Moana Glass, Staub has made learning the basics of this roughly 2,000-year-old art form accessible and enjoyable. Since opening his Lahaina studio, Staub has been offering private glass-blowing lessons, which come with a brief history of the intricate art.
"We're not going to take up your whole day," he says, "The value is huge. With us, you learn something, you see a working glass studio and you also get something to take home."
The process is straightforward. A private glassblowing lesson can be booked online or over the phone. (Reservations must be made in advance.) The lesson starts off with orientation/safety in the studio—you're working with a 2,000-degree furnace, after all—and then it's time to blow glass. Each lesson is about 30 minutes long, during which participants work one-on-one with a professional glassblower to make their own glass art object. You can choose the colors as well as shape of the piece, such as a heart, starfish, drinking glass or a floppy bowl. Staub says about 60 to 70 percent of participants opt to make fish. "It reminds them of Hawaii," he says.
Staub says he and his staff of 10 give an average of 25 lessons each day at the studio's two glassblowing stations. Moana Glass is open seven days a week, making it convenient to schedule a glassblowing session. Lessons range from $150 to $250, depending on the piece you choose to make. Once the glass pieces have cooled overnight, you come back and pick up your piece. They are usually ready around 3 pm. Shipping is also available at an additional charge.
Moana Glass also hosts free demonstrations for the public every week. They run from 6 to 9 p.m. but the day of the week sometimes changes, so call and ask about current demo night schedules. Staub says visitors are welcome into the studio to watch as he and other master glassblowers inflate and manipulate the molten glass into art pieces both functional and decorative.
In addition to learning how to blow glass and make your own small souvenir object, Moana Glass also has a stunning gallery with colorful, unique pieces for sale. Staub says he and his team delicately crafted all of the artwork, including drinking glasses, vases, marine animal sculptures and more. He makes lighting and sinks as well. You can even order custom fixtures and artwork designed specifically for your home.
"Glass blowing is a dying art form," Staub says. "My mission is to keep it alive by educating people and helping people understand it."
For more information and to book your private lesson, visit moanaglass.com, call (808) 763-6338 or email moanaglass@gmail.com.