Add to the List: Things to do in April in Hawaii
From Kauai to Hawaii Island, we highlight our favorite festivals, fairs and local happenings in April.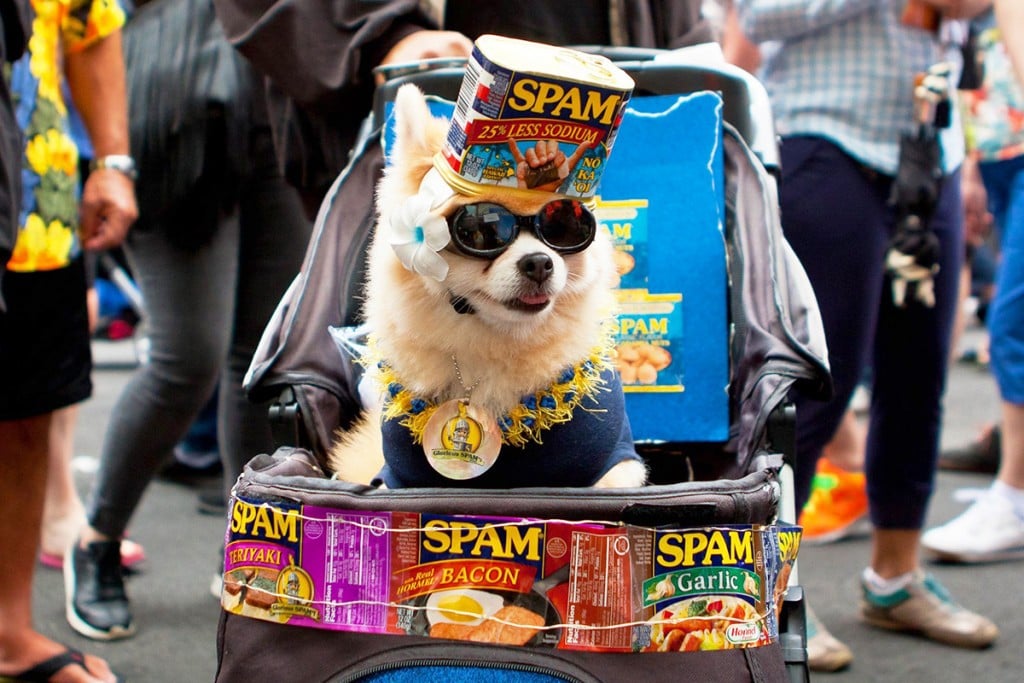 OAHU
"The Watcher of Waipuna"
3/21-4/20
Kumu Kahua Theatre presents "The Watcher of Waipuna" this season, which is based on Hawaii writer Gary Pak's short story of the same name. In the play, Gilbert Sanchez is the watcher of Waipuna, his homeland, which is threatened by commercial expansion. The parable explores the connection between humans and the environment. Honolulu, Oahu, kumukahua.org.
Kawaii Kon
4/5-4/7
Anime fans, video game enthusiasts and cosplayers wait patiently the entire year for Kawaii Kon, a three-day convention at the Hawaii Convention Center that celebrates Japanese anime, manga and other facets of Japanese culture. Attendees can buy some premium merch at the Dealers Room, watch as costumed vocalists sing their hearts out at the karaoke competition and even commission artwork at the Artist Alley. Honolulu, Oahu, kawaiikon.com.
Waikiki Spam Jam
4/27
Everybody loves Spam, and nowhere is that more apparent than at the annual Waikiki Spam Jam, a popping street festival that shuts down most of Kalakaua Avenue. Here you can check out a variety of Hawaii retail booths, and take your pick from one of two entertainment stages. And of course, you can eat plenty of Spam: Restaurants such as Herringbone and Mahaloha Burger will be making special Spam-inspired dishes all night long. Waikiki, Oahu, spamjamhawaii.com.
MAUI
Celebration of the Arts
4/19-4/20
Cultural practitioners, speakers and entertainers convene at The Ritz-Carlton Kapalua for its annual Celebration of the Arts. This year's theme, "E Aloha I Na Mea Kanu" ("Love All Things That Are Planted"), refers to the growth of crops, life, ancestors and thoughts; weekend festivities include films, food, entertainment and panels. Kapalua, Maui, kapaluacelebrationofthearts.com.
Haiku Hoolaulea & Flower Festival
4/14
Free to the public, this Haiku hoolaulea (celebration) has a ton going on. Participate in a live silent auction, listen to live entertainment and be sure to indulge n some of the baked goods from the Haiku School bake sale. Those with green thumbs may also be interested to know that there will be a floral design contest, as well as a flower and plant growers market. Haiku, Maui, haikuhoolaulea.org.
KAUAI
Spring Fantasy Orchid Show
4/5-4/6
What's more fitting than an orchid show on the Garden Isle? Exotic orchids are the star of this event, which will be held at the United Church of Christ in Hanapepe. When you're not snapping photos of these beautiful flowers, check out the demonstrations on how to repot an orchid or grab some food for sale at the show. Hanapepe, Kauai; for more information call (808) 635-3789.
HAWAII ISLAND
Merrie Monarch Festival
4/21-4/27
It's the hardest event to get tickets to in Hawaii, and if you haven't gotten them by now, then you're out of luck. Watch the hula competitions on Hawaii TV or livestreaming online. If you're in Hilo, don't miss the public festivities, such as the hoike (show), parade and four-day Hawaiian Arts Fair, with vendors selling arts and crafts, food, jewelry, clothes and more. Hilo, Hawaii Island, merriemonarch.com.
Big Island Chocolate Festival
4/26-4/27
Satisfy your sweet tooth at this annual fundraiser which hosts the nation's top chocolatiers. From a chocolate cooking demonstration to a chocolate pairing workshop, you'll have ample opportunity to feast on decadent cacao during the event. The gala event, held on the 27th, will feature 25 food stations, unlimited beer and wine pours, an all-you-can-enjoy chicken mole bar and live music. Waimea, Hawaii Island, bigislandchocolatefestival.com.
MOLOKAI
Uke Ohana Molokai
4/5-4/9
Bring your ukulele to Puu o Hoku Ranch for this five-day immersion and create beautiful music. Teachers Heidi Swedberg and Daniel Ward will break down the technique into simple steps, while folk artist Lono shares the songs of Molokai's sacred sights and teaches Hawaiian ukulele tradition. Kaunakakai, Molokai, ukeohana.com.
Hidden Hawaii
4/12-4/16
A five-day, four-night nature-printing workshop led by renowned printer Heather Fortner, Hidden Hawaii takes guests on field trips on Molokai to immerse themselves in the island's flora and fauna. In the studio, Fortner will share how to make prints of the plants collected. Kaunakakai, Molokai, fullheartproductions.com.