Add to the List: Things to do in April in Hawaii
From coffee fanatics to hula enthusiasts, this month there's something for everyone.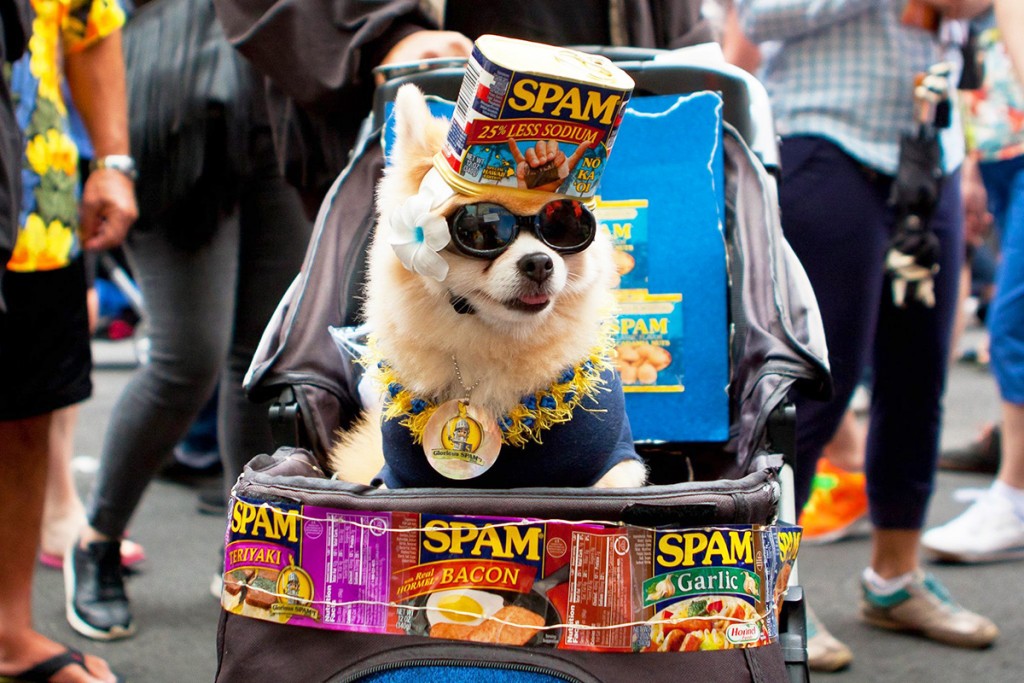 Oahu
Contact Exhibition
4/6–4/24
See the the fifth annual Contact exhibition at the Honolulu Museum of Art School, a review of contemporary art in Hawaii created by artists currently living in or originally from Hawaii. The title is inspired by Mary Louise Pratt's anthropological term "Contact Zone," a space where cultures intersect and conflict with each other, a theme especially relevant because of Hawaii's ethnic diversity and the 100+ languages spoken throughout the Islands. In addition to the art displayed at the Honolulu Museum of Art School, there will be several site-specific installations in Waikiki. Free, various locations, contacthawaii.com.
Mana Up Inaugural Showcase
4/27
The culmination of a 12-week accelerator program to help 10 Hawaii startups grow their business, this reception in Kakaako with drinks, local food and a local product marketplace will allow people to hear the stories behind Hawaii's up-and-coming creatives and members of the agricultural sector, like Hawaiian Vanilla Co., Kohana Rum and Manoa Chocolate and how they serve as ambassadors of aloha to the world by showcasing what makes Hawaii special. $20, Salt at Our Kakaako, 691 Auahi St, eventbrite.com
Waikiki Spam Jam
4/28
Join thousands on the streets of Waikiki to celebrate Hawaii's iconic canned meat, Spam. Purchase dishes made entirely of Spam from street vendors lining Kalakaua Avenue, listen to Hawaii musicians on multiple stages, and see some of the zany outfits and costumes made and worn by some of Spam's biggest fans. Kalakaua Avenue, Waikiki, spamjamhawaii.com.
I Love Kailua Town Festival
4/29
Kailua's largest community event of the year, the 26th annual I Love Kailua block party, includes fun, food, live entertainment and games for the entire family. All proceeds from the event will go towards the restoration of roads and parks in Kailua. This year, there will be over 50 Windward Oahu-based crafters and artists in attendance, plus Kailua-based stores and restaurants, including the popular I Love Kailua booth that will feature limited edition, one-of-a-kind apparel and accessories. Free, 11 a.m. to 4 p.m., Kailua Rd., Kailua, lkoc.org.
Hawaii Island
Merrie Monarch Festival
4/1–4/7
The weeklong Merrie Monarch Festival, dedicated to the memory of King David Kalakaua, gets underway April 1 in Hilo with a hoolaulea (celebration) and arts fair, sending the town into a flurry of excitement as hula groups from Hawaii and the nation join together for three nights of competitive performances. Although tickets are sold out every year months in advance, the competition, set for April 5–7, can be viewed online. Edith Kanakaole Tennis Stadium, 350 Kalanikoa St., Hilo, online at merriemonarch.com and k5thehometeam.com.
Kau Coffee Festival
4/21–5/6
Attention coffee fanatics: If coffee is not only something you need to jumpstart your day, but also something you consume around the clock, then a two-week celebration of coffee sounds like just what the doctor ordered. Sample coffee grown in Hawaii and around the world, and explore several Hawaii Island coffee farms to see the process firsthand. There will be informative talks where you can pick up tips and tricks from expert baristas and coffee connoisseurs on how to brew yourself the perfect cup of coffee. Various prices, locations and times. kaucoffeefestival.com.
13th Annual Laupahoehoe Music Festival
4/21
Watch live Hawaiian music and hula performances from the Laupahoehoe Ukulele Band, Komakakino, Monster Zero, Dagan, and Ira Varize at the 13th annual Lupahoehoe Music Festival. There will be a wide variety of food, from Hawaiian to Thai, carnival style games, and a handmade crafts table where you can make your own hats, T-shirts and jewelry. Don't forget about the silent auction benefiting students of Laupahoehoe Community Public Charter School. $20, 10 a.m. to 3 p.m., Laupahoehoe Point Beach Park, 36-1043 Laupahoehoe Point Rd., Laupahoehoe, laupahoehoemusicfestival.org.
Big Island Chocolate Festival
4/27–4/28
Satisfy your sweet tooth at this annual fundraiser which hosts the nation's top chocolatiers. Pick up the Saturday, April 28, I Love Chocolate! day pass and gain access to all culinary demos and tastings so you can indulge in chocolate decadence. Hapuna Beach Resort, 62-100 Kauna Oa Dr., Waimea, bigislandchocolatefestival.com.
Maui
Maui County Agricultural Festival
4/7
If keiki zones with bounce houses, horse and pony rides and farm-to-table meals are the kind of family fun you're looking for, then this festival is for you. The festival for raising awareness about Maui's agriculture also features live music and a farmers market. Maui Tropical Plantation, 1670 Honoapiilani Hwy, Wailuku, mauicountyfarmbureau.org.
East Maui Taro Festival
4/21
Kalo, the taro plant, is rooted deep in the Native Hawaiian diet but also in the culture itself. This festival's main goal is to educate people about the values and significance of the plant, while also providing hands-on activities, such as poi pounding and kapa (wauke tree bark) cloth making. Hana Ballpark, 5091 Uakea Rd., Hana, tarofestival.org.
Kauai
Kauai Brewers Festival
4/28
Raise a glass to support Junior Achievement Kauai, an organization dedicated to training Hawaii's youth to be economically successful young adults. Kauai Brewers festival will have over 30 craft beers available to taste, from local Hawaii breweries to mainland brands. To top it off (pun intended), there will be food from some of Kauai's top restaurants, such as the Lava Lava and Merriman's Fish House. All event-goers will receive a special edition glass beer mug. $75 (food and beer included in ticket price), 2 to 6 p.m., Poipu Beach Athletic Club, 2290 Poipu Rd., Koloa, (808) 635-0411.