Add to the List: Things to do in June 2019 in Hawaii
From cross-island paddling festivals to commemorating Hawaii's King Kamehameha, here are the June events you can't miss on the Islands.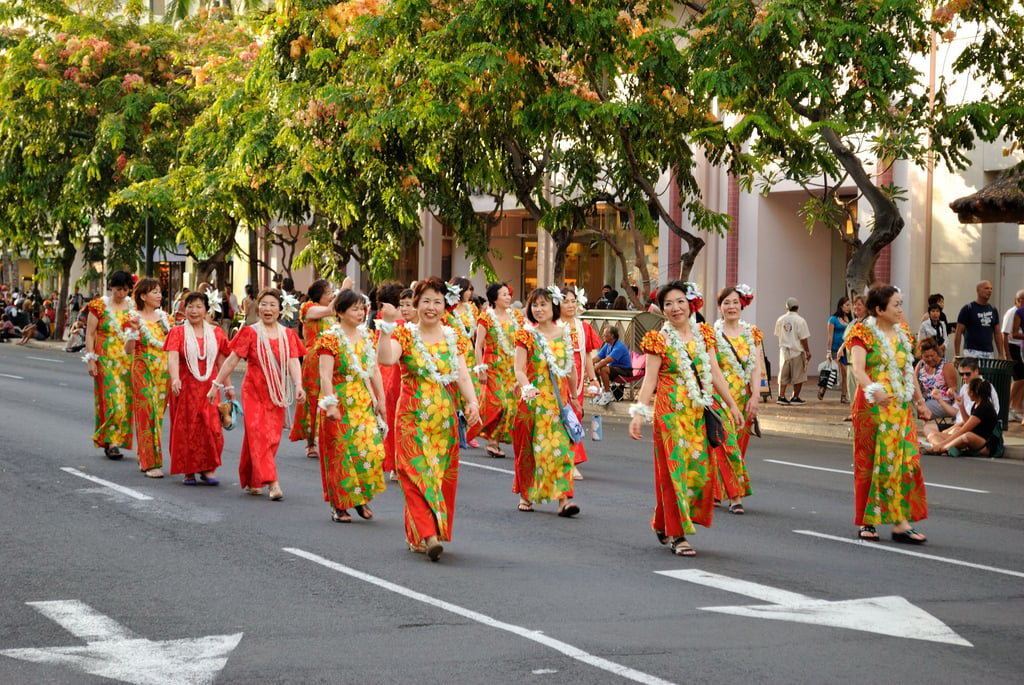 All Islands

King Kamehameha Day
6/11
It's June, which means it's time for the Islands' annual celebration of the great King Kamehameha. No matter what island you're on, you can enjoy pau (traditional long skirts worn by women on horseback) parades, lei-drapings and other festivities, all honoring the man who brought together the Hawaiian Islands in 1795. Statewide, ags.hawaii.gov/Kamehameha
Oahu

Pan-Pacific Festival
6/7-6/9
Listen to the pounding of taiko drums and watch the swaying arms of hula dancers at the 40th annual Pan-Pacific Festival, which celebrates the multiculturalism of Hawaii. The multiday event begins with a hoolaeulea (festival) in Waikiki, full of food booths and local crafts, and keeps the party going over the weekend with hula festivals, a parade and more. Honolulu, Oahu, pan-pacific-festival.com
Mango Jam
6/21-6/22
Just as trees across the islands grow closer to harvesting, the Mango Jam rolls into Honolulu, ready to celebrate the sweet and tangy fruit. Sip on mango cocktails at the Mango Lounge, check out local vendors or savor some mango-inspired snacks at the two-day event. If you've got a killer mango dish you're willing to share, enter in the Mango Recipe Contest. There's two different competitions—one sweet, the other savory—for a grand prize of $250. If you're not culinary-inclined, you can still get in on the action by watching the Mango BBQ Cook Off between Executive Chef Adrian Soloranzo of Sansei Seafood Restaurant & Sushi Bar and Executive Chef Keith Endo of Vino Italian Tapas and Wine Bar. Honolulu, Oahu, mangojamhonolulu.com
Maui

Keith, Unfiltered.
Now through 6/22
Get a behind-the-scenes look at Keith Richards and the Rolling Stones through 50 years of photographs, now on display at the Morrison Hotel Gallery in Maui (in addition to its New York and Hollywood locations). As the Stones embark on their "No Filter" tour, see into the life of a rock god through the lenses of renowned photographers. Prints are also available for purchase. Lahaina, Maui, morrisonhotelgallery.com
38th Annual Kapalua Wine & Food Festival
6/6-6/9
One of the oldest food and wine events in the United States, this weekend festival serves up some of the best Maui has to offer. Enjoy wine seminars, tastings and celebrity chef cooking demonstrations alongside acclaimed sommeliers and renowned chefs. Kapalua, Maui, kapaluawineandfoodfestival.com
20th Annual Maui Film Festival
6/12-6/16
Trade your tuxedo for an aloha shirt and enjoy a film festival Hawaiian-style, outside under the stars at Wailea Gold & Emerald Golf Course. With VIP events and celebrity honorees, you can get a little taste of Hollywood on The Valley Isle. Kihei, Maui, mauifilmfestival.com
Kauai

7th Annual Kauai Fashion Weekend
6/22
Soak up all the glamor of a runway show with pieces from local and international designers at the Kauai Marriot Resort. As you see this season's newest wears, enjoy live music from Liz Elias, actress and singer famous for playing Mia on "Every Witch Way" and for her song "At Night" with Flo Rida. VIP ticketholders can enjoy a dinner before the show. Lihue, Kauai, kauaifashionweekend.com
Kauai Comic Convention
6/8
For the first time ever, The Garden Isle is having its own comic convention. Meet and greet with celebrity guests such as Ban Daisuke, known for his role as Jiro/Kikaida in the Japanese TV show Jinzo Ningen, or Marvel and DC comic creator Carl Potts. You can also partake in a cosplay contest, peruse vendor booths or even take a ride on a Millennium Falcon hovercraft. Lihue, Kauai, kauaicomicconvention.com
Molokai

Molokai Holokai Hoolaulea
6/29-6/30
The ocean and sailing program Youth in Motion has been holding the stand-up paddleboard (and other paddle craft) race from Maui to Molokai since 2003. If the cross-island trip is a little daunting, try the second day's race, which consists of series of 10-, five- and half-mile races downwind along the longest fringing reef in America. Those who aren't paddling in Saturday's 27-mile race between the two islands can show Mother Earth some love and help with the Beach and Mangrove Cleanup to help remove some invasive species—plus you'll get a free T-shirt. Kaunakakai, molokaiholokai.com
Hawaii Island

Made in Hawaii Film Festival
6/14
Tap into the Hawaii indie film scene and support Hawaii-made movies at the Best of Fest at the Aloha Theatre. Grab a ticket to their Made-in-Hawaii Shorts viewing to see eighth short films, including "The Alii's Seed," which details the story of how an ancient Hawaiian chief chooses his heir. Or you can catch the feature-length film "August at Akikos," a story about a musician who comes home to Hawaii and befriends a Buddhist bed-and-breakfast owner. Kailua-Kona, Hawaii Island, mihff.org
Hilo Brewfest
6/29
With over 70 beers to try, the Hilo Brewfest—hosted by The Rotary Club of Hilo—is the perfect spot for any beer-lover. As you sample each ale, try some plates from local restaurants and take in the unparalleled views overlooking Hilo Bay. Grab your souvenir pilsner glass and enjoy the live music, knowing the funds raised by the event help support HHSC Primary Care Physician Training, the Children's Justice Center of East Hawaii and the Hilo Rotary Club Foundation. You must be 21 or older to attend. Hilo, Hawaii Island, hilobrewfest.com
Kona Marathon
6/30
Soak up the beauty of Hawaii Island while burning calories at the Kona Marathon. The course starts and ends at the Waikoloa Beach Resort, taking runners through the beautiful resort area and into the arid regions of Waikoloa Village. If you're not ready to run a marathon, you can also join in on the half-marathon, quarter-marathon or 5K without compromising the outstanding vistas and upbeat atmosphere. Waikoloa Village, Hawaii Island, konamarathon.com