Add to the List: Things to do in November 2018 in Hawaii
From Kauai to Hawaii Island, we highlight our favorite festivals, fairs and local happenings in October.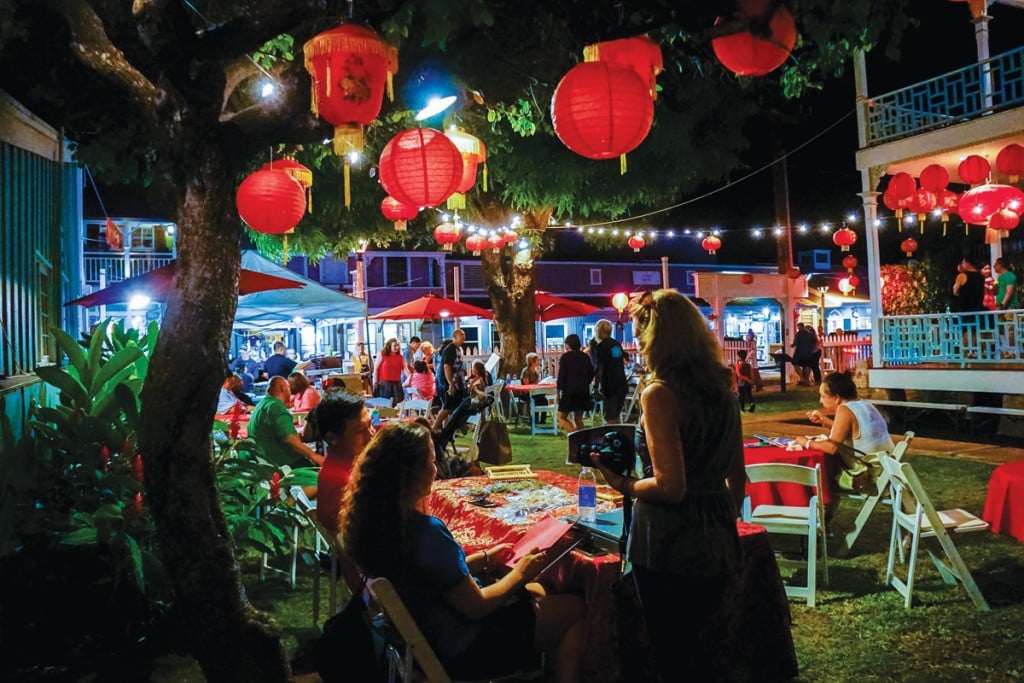 ALL ISLANDS

Hawaii International Film Festival
11/8–11/18
Cinemaniacs will heart this year's Hawaii International Film Festival (HIFF), showcasing the best movies, documentaries and short films made in Asia, the Pacific islands and Hawaiʻi. If you want to show your support and reap some benefits, consider becoming a HIFF member, which comes with nice perks, such as reserved theater seating and reduced ticket costs. Multiple locations, hiff.org.
OAHU

Surf Art & The Surfer Art Festival
11/2–11/3
Taking place in the small central town of Wahiawa, this art festival's main mission is to promote local Oahu artists. If you're in the market for a new piece to hang on your wall, know that 10 percent of the proceeds from this event will go toward Surfing the Nation's outreach programs, which aim to make a positive impact in communities around the world. Food trucks will also serve food at the festival, and local musicians will perform throughout the night. 44 Ohai St., Wahiawa, surfingthenations.com.
Waimea Valley Makahiki Festival
11/10
A celebration of Hawaiian culture, this festival set in Oahu's Waimea Valley looks to mimic the makahiki festivals of old, where Hawaiians would compete in a variety of games unique to Hawaii. Also taking place in the valley on the same day is Ke Alohi Hula, a coed hula competition in which halau hula (hula schools) will vie for the title of "Ke Alohi Hula o Waimea," or "The Brilliant Hula Dancer of Waimea." 59-864 Kamehameha Hwy., Haleiwa, waimeavalley.net.
Waikiki Holiday Parade
11/23
Get yourself into the holiday spirit by attending this boisterous parade, which will be marching its way down Kalakaua Avenue the Friday after Thanksgiving. The annual Waikiki tradition also honors and commemorates the survivors and veterans of the attack on Pearl Harbor. Expect to see marching bands, military units and halau hula all participating in this festive affair. 2055 Kalia Rd., Honolulu, waikikiholidayparade.com.
MAUI

Made in Maui County Festival
11/2 and 11/3
Shop till you drop at this two-day festival, where you can buy art, crafts, jewelry, accessories and more, all of which are made in Maui County, which includes Lanai, Molokai and Maui. Serious shoppers looking to avoid the crowds should purchase tickets to the festival's first day, Friday, Nov. 2, which is an exclusive shopping day. However, bear in mind that there won't be live entertainment or the expansive food truck selection that's available on the event's second day. 1 Cameron Way, Kahului, madeinmauicountyfestival.com.
Sun Yat-sen Festival
11/11–11/12
Pay homage to Maui's Chinese culture as well as Dr. Sun Yat-sen, the founding father of the Republic of China, who also happened to spend more than seven years in the Islands preparing for the 1911 Chinese Revolution, at the Wo Hing Museum in Lahaina. If you want to try your hand at Chinese cultural activities, such as calligraphy, knot tying or even receive a traditional acupressure massage, don't worry about the cost, as admission is free both days. 858 Front St., Lahaina, lahainarestoration.org.
HAWAII ISLAND

Black and White Night
11/2
Taking over the streets of Downtown Hilo, the Hilo Downtown Improvement Association will host its annual block party once again this year; attendees are encouraged to dress up in a black and white outfit. Live music and performances will be at the main stage on the corner of Keawe Street and Haili Street, and for those of you who love prizes, hit up all of the registered selfie spots in town to take home something for yourself. Multiple locations, downtownhilo.com/blackandwhite.
Kona Coffee Cultural Festival
11/9–11/18
Back for its 48th year, you'll need to sip on some Kona coffee to see everything this 10-day festival has to offer. But if you only have a day or two to spend, there are certain events, such as the lantern parade and obon dance on Nov. 9, as well as the dessert recipe contest on Nov. 11, that are definitely worth prioritizing. Multiple locations, konacoffeefest.com.
KAUAI

Veterans Day Parade
11/3
Starting at 9:30 a.m. on Makaha Road, the Veterans Day parade will make its way down Kuhio Highway and end at Kapaa Beach Park. Local community organizations, Kauai school marching bands and ROTC units will also march along in this parade. Afterward, stay for the Old Kapaa Town First Saturday celebration, which includes live music, local crafts and ono food. 4480 Makaha Rd., Kapaa, kauaiveteranscenter.org.
Wahine Comedy Festival
11/9–11/10
Back for its fourth year, this comedy festival highlights some of Hawaii's top wahine (women) in comedy. With comedians from Maui, Oahu and Kauai, expect to get your fair share of laughs during this two-night event. Both shows will be headlined by Na Hoku Hanohano comedy album award winner Brandi Morgan. 440 Aleka Place, Kapaa; for more information, check out their Facebook page.