Add to the List: Things to do in October in Hawaii
This October, get your downward dog on, chow down at a food festival with international chefs and attend a concert in honor of Queen Emma.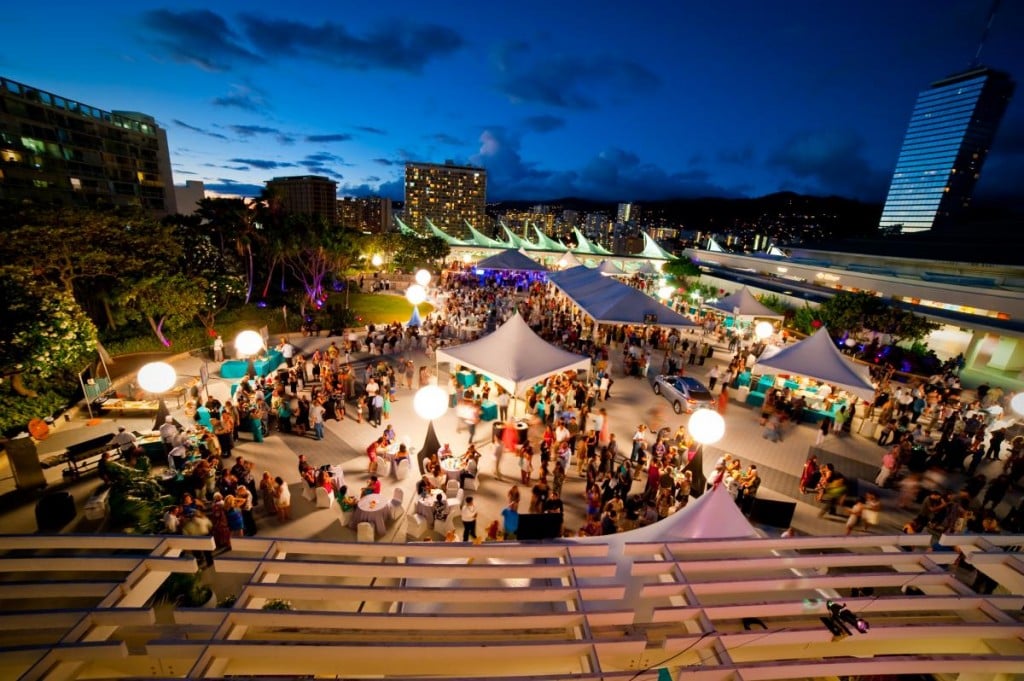 October's not all about spooks and frights. Get your downward facing dog on in Pahoa on the Big Island, enjoy fine dining across Maui and Oahu, or learn about Queen Emma on the idyllic Kanaloahuluhulu Meadow on Kauai.
Statewide
Halloween
10/31
The spookiest night of the year is also the most entertaining: Face the horror at one of many haunted houses scattered across Oahu, including the famed Haunted Plantation in Waipahu, or spend the evening in costume, dancing or people-watching at Hawaii's biggest Halloween block party in Lahaina, Maui. Hawaiihauntedplantation.com, visitlahaina.com.
Hawaii Island
Hawaii Yoga Festival
10/10–10/15
Unroll your mat, take off your shoes and settle in for five days of tranquil bliss practicing yoga at the Kalani Retreat Center. Guest teachers include Jade Rajibir Kaur, the founder of SoulEvolution Coaching, and Jessamyn Stanley, a body positivity advocate and writer. 12-6860 Kalapana – Kapoho Rd., Pahoa, hawaiiyogafestival.com.
Maui
Hawaii Food & Wine Festival
10/20–11/5
A celebration of fine dining and culinary excellence, this festival on Maui, Oahu and Hawaii Island is perfect for those looking to meet celebrity chefs and indulge in gourmet dishes and fine wine. Take it to the streets at Maui's Global Street Food (Oct. 21) or enjoy a sunset while being wined and dined by superstar culinary talent at Waikoloa Beach Marriott Resort's Cuisines of the Sun (Oct. 28). hawaiifoodandwinefestival.com.
95th Maui Fair
10/5–10/8
One of Maui's most timeless traditions returns for a milestone year, along with all of the popular E.K. Fernandez rides, sugar-coated desserts, eating contests and friendly farm animals. 700 Halia Nakoa St, Wailuku, mauifair.com.
Oahu
5th Annual Kahumana Farm Festival
10/7
Located on the west side of Oahu is Kahumana Farm, a nonprofit organization that focuses on sustainability and agriculture. Returning for its fifth year is the Kahumana Farm Festival, which aims to promote local agriculture, crafts, artists and music. One-man-band Tavana will be the festival's opener, however, those with green thumbs may enjoy the seed and plant exchange. 86-660 Lualualei Homestead Rd., Waianae, kahumana.org.
Honolulu Pride: Celebrate the Rainbow
10/21
Watch, or walk in, one of the most cheerful and upbeat parades on Oahu. Look for rainbow flags hung throughout Waikiki in celebration of Honolulu Pride, an effort made possible by organizations and individuals who support Hawaii's LGBTQ community. 2805 Monsarrat Ave., Honolulu, hawaiilgbtlegacyfoundation.com.
Zombie Apocalypse: Rescue Mission
10/6–10/31
Fight for your life every Friday, Saturday and Sunday at Coral Crater Adventure Park. In this guided adventure, you've been chosen to rescue inhabitants of a zombie infested village. Work together to fight off this zombie hoard and find the survivors, but don't take your time, or you'll miss your chance to zip-line off to safety. 91-1780 Midway St., Kapolei, coralcrater.com.
Molokai
Festivals of Aloha
10/6–10/7
The year's theme celebrates the return of the voyaging canoe Hokulea, following a three-year journey circumnavigating the globe. Listen to Hawaiian music, watch the Molokai Royal Court receive its royal symbols and get there early to taste the Ulu-Uala-Kalo ("breadfruit, sweet potato, taro") contest entries. 90 Ainoa St., Kaunakakai, festivalsofaloha.com.
Kauai
29th Annual Emalani Festival Kauai
10/14
Taking place on the Kanaloahuluhulu Meadow, Kokee Natural History Museum pays tribute to Queen Emma, known for her many humanitarian efforts, including the establishment of Queen's Hospital. Kokee Rd., Hwy 550 Kekaha, kokee.org.