Admire the stars from the top of Mauna Kea on this half-day tour
Hawaii Forest & Trail leads adventurers on a stargazing trip like no other.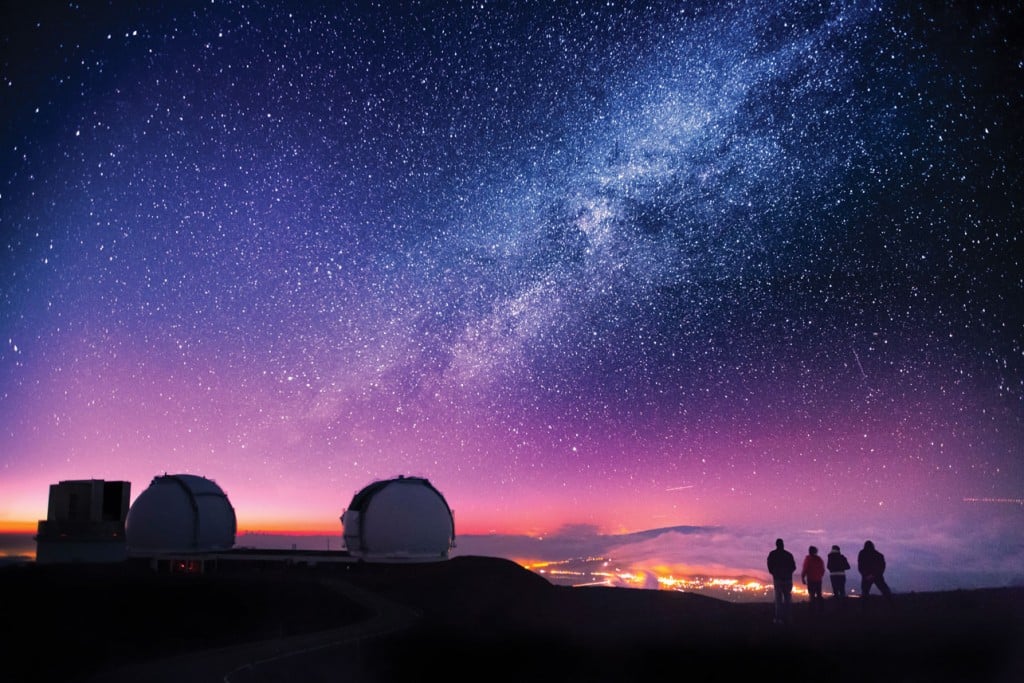 Our 14-passenger Mercedes van is packed and we're sitting shoulder-to-shoulder, as our Hawaii Forest & Trail tour guide, Joe, drives us up Saddle Road, bisecting the island between two volcanoes. We're on our way to the summit of Mauna Kea to see the sunset and stars. "I remember the first time I saw the stars there so vividly, and all of you are going to love it," I say, from the back of the van to my fellow passengers, when Joe asks us to introduce ourselves.
It's a clear day and I watch the rolling hills of Parker Ranch zoom past my window, and Joe begins listing off all the scientific names of trees we are passing and telling us what wildlife we should keep our eyes out for—a pueo (Hawaiian short-eared owl), a deer, hundreds of sheep.
We turn onto Mauna Kea Access Road and make our first stop at the historic Humuula sheep station for lunch. It's an abandoned piece of private property now, with derelict buildings, but, in the late 19th and 20th centuries, sheep raising here was a major industry. We pull up to a large, white tent and walk around for a moment to take photos, while he prepares our catered meals of chicken, brown rice, beans and vegetables. Having already ascended to an altitude of 7,000 feet from our sea-level hotels at Mauna Lani, we eat at picnic tables in this rustic spot and acclimate, before we continue our ascent up the mauna (mountain).
It's a steep climb with switchbacks on a very bumpy, rocky road. We are following a compact car, which is moving very slowly in front of us. Joe tells us it's not wise to drive a two-wheel drive car up here. "It will cost $1,000 to tow it, if you get stuck," he says, adding, "I'm more worried about their drive down." He's not kidding. The remote location, high altitude and cool temperatures can turn this adventure into a dangerous one quickly, if not done wisely. As if on cue, we pass a compact car on the side of the road with a busted tire and its passengers looking for a spare.
At 10,000 feet, Joe pulls over to the side of the road so we can take photos of the interstellar views. Similar to summiting Haleakala, it is otherworldly above the clouds and is in the direct line of sight of volcanoes Mauna Loa and Hualalai—we even catch amazing glimpses of Halemaumau Crater emitting puffs of smoke, something I wasn't expecting to see all the way from over here.
After bouncing around in the back of the van for a lengthy period of time, we reach pavement. "I didn't want to spoil the surprise," Joe laughs, while the rest of us breathe a sigh of relief. The sun is lowering in the sky and I sense we are almost to the 14,000-foot summit amidst the world's largest collection of research telescopes.
Joe parks our van at the foot of a giant, white orb of a telescope, and we zip up the parkas we were provided, stepping outside into the cold landscape above the clouds. Joe had briefed us on how to recognize altitude sickness and what to do if we feel dizzy, so I walk slowly, especially after finding a quick burst of steps leaves me breathless. We walk from one end of the summit to the other and watch peacefully and meditatively as the sun slips below the horizon.
Descending down to the visitors center at 9,000 feet, Joe begins his stargazing program with cups of hot chocolate and a brownie while he sets up a telescope. The atmosphere above us is clear and the half-moon is shining brighter than I've ever seen it. With each passing minute, more and more stars peek out of the night sky until the Milky Way is visible. We are not alone admiring the stars—other tour groups have congregated in their own dark corners of the parking lot and I watch beams of green lasers flash out of their guide's hands into the skies, as each pinpoints constellations, individual stars and planets to their guests. Joe lets us take turns looking into the telescope, explaining in detail what we are seeing, but I'm content as it is, enjoying this star-studded night with my head tilted back and eyes wide open in amazement.
$220, ages 16+, toll-free (808) 400-5772, hawaii-forest.com.