Ala Moana Center Survival Guide: Holiday 2020 Edition
From 2020 Black Friday deals to new holiday hours, here's everything you need to know if you're looking to visit Ala Moana Center this holiday season.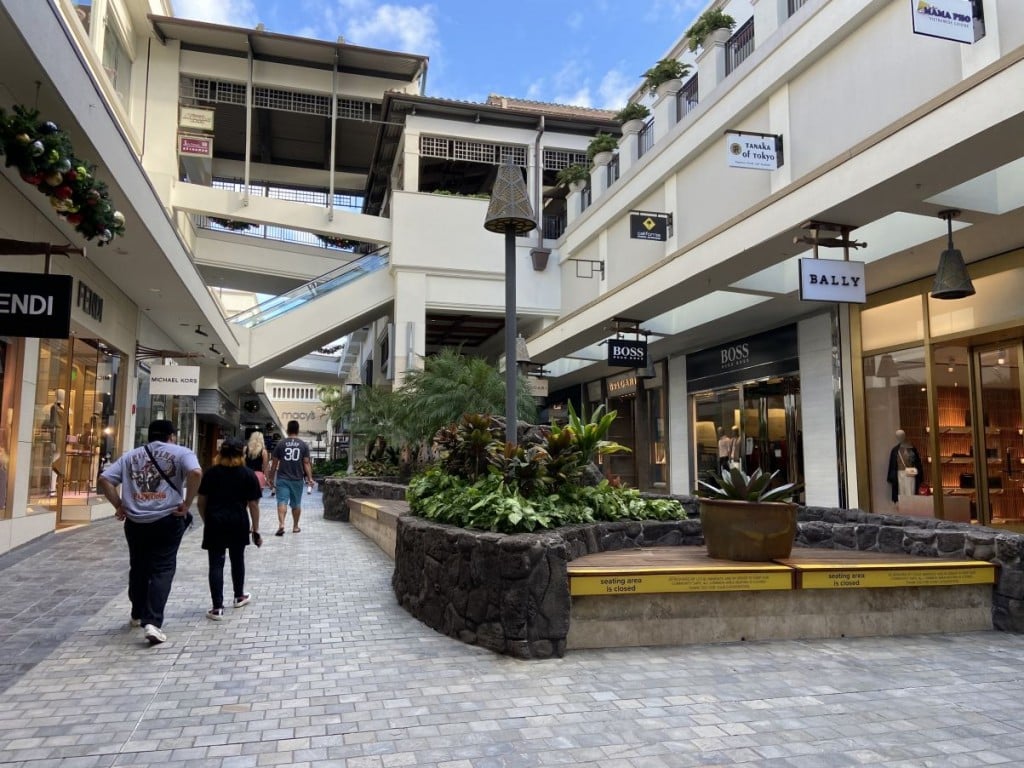 For the most part, Ala Moana Center is getting back to normal. Its parking lots are no longer empty, shoppers—some visitors, others kamaʻāina (residents)—fill its once deserted open-air passageways. Most shops have once again reopened their doors and, for the most part, are back their normal hours of operation.
But it's not the same. COVID-19 continues to loom over the shopping center in a number of ways, some more apparent than others.
To make sure you're not unpleasantly surprised by any of these restrictions, and to give you an idea of what Ala Moana Center currently looks like, we've put together a new addition to our Ala Moana Survival Guide series, focused entirely on this year's holiday season.
How's Parking?
First things first, let's talk parking. Long gone are the days when you could pull up to seemingly any parking lot in the mall and expect to find a bunch of empty stalls. Even on an odd weekday afternoon finding parking can be tough, so it's time to return to those old favorites: your "secret" stalls. If you don't have one of those yet, be sure to check out our Ala Moana Survival Guide article dedicated entirely to the subject!
READ MORE: HAWAIʻI Survival Guide: Where to Find the Best Parking at Ala Moana Center
Is It Crowded?
No, Ala Moana Center is not as busy as it was pre-COVID, but it's definitely getting there. With visitors—both the Mainland variety and those from certain other countries—able to bypass Hawaiʻi's 14-day quarantine with a negative COVID-19 test, traffic at the shopping center has definitely increased. Add into the mix locals who have been going stir-crazy in their homes for the past nine months, and you've got yourself a relatively buzzing mall. Small groups, semi-crowded walkways and busy shops are the norm once more.
READ MORE: What You Need To Know If You're Traveling To Hawaiʻi Now—UPDATED
Do I Need to Wear a Mask?
Yes. Every store in Ala Moana Center requires a mask or face covering to enter, and there is currently a statewide mandate in effect requiring everybody in a public setting to be wearing a mask.
Where Can I Rest?
This one's a bit tricky. To prevent large groups from gathering, Ala Moana Center has removed nearly all of its public outdoor seating. That means no benches or tables to rest your weary legs at. But that doesn't mean there is no seating in the mall, you just have to know where to find it. For example, cafés like Honolulu Coffee Co. and Ebar Artisan Coffee—just outside Nordstrom—offer tables for their customers, though not many. And beware: Certain coffee shops, including the Barnes & Noble Café, have removed all of their seating. A much larger number of tables can be found in the first-floor food court, however, you will have to wait to be seated if there are no available tables.
READ MORE: HAWAIʻI Survival Guide: Where to Eat (and Drink) at Ala Moana Center
Will I Have to Wait in a Line?
Due to state ordinances, maximum capacity has been reduced at every shop in Ala Moana Center, so yes, you may have to wait in line before entering a store. This problem could get significantly worse if Black Friday crowds come out in full force. To help minimize the problem, the mall is offering "Safe Shopper" services, like Spot Holder, a line-queuing program that lets customers reserve a spot in line using the QR code found in front of retailers' doors, or online at the mall's website, as well as a store-to-door delivery service.
How Are the Deals?
The good news here is that there are more than enough sales and deals to be found in the mall. And with Black Friday upon us, the savings have only gotten better. While high-end stores and boutiques are holding out—as they tend to do—midrange clothing shops like Forever 21, American Eagle and Uniqlo are slashing prices on many of their products. A full list of Black Friday specific sales can be found here.
READ MORE: HAWAIʻI Survival Guide: Our Shopping Finds at Ala Moana Center
Is Santa Going to be There?
Fortunately, old St. Nick will still make his jolly way down to Ala Moana Center, but this year, keiki won't be able to sit on his lap. Contactless photos will be available on the mall's second level, between Pandora and Tommy Bahama, until Christmas Eve, Monday through Saturday from 11 a.m. to 7 p.m., Sundays from noon to 6 p.m., and on Dec. 24 from 9 a.m. to 5 p.m. Reservations are required, and those can be made here.
READ MORE: HAWAIʻI Survival Guide: Play Areas, Selfie Spots and Other Amenities at Ala Moana Center
What are the Holiday Hours?
To allow shoppers extra time to make sure they've gotten everything on their holiday shopping lists, Ala Moana Center has extended its hours:
Nov. 25: 11 a.m.-7 p.m.
Thanksgiving: Closed
Nov. 27 (Black Friday): 7 a.m.-9 p.m., although certain retailers may be open much earlier.
Nov. 28-Dec. 23: Monday-Saturday 10 a.m.-8 p.m.; Sunday 11 a.m.-7 p.m.
Dec. 19: 9 a.m.-9 p.m.
Christmas Eve: 9 a.m.-6 p.m.
Christmas Day: Closed
Dec. 26: 10 a.m.-9 p.m.
Dec. 27-30: Sunday 11 a.m.-7 p.m.; Monday-Wednesday 10 a.m.-8 p.m.
New Year's Eve: 10 a.m.-6 p.m.