All the ways to immerse yourself in Yayoi Kusama's 'Footprints of Life' in Honolulu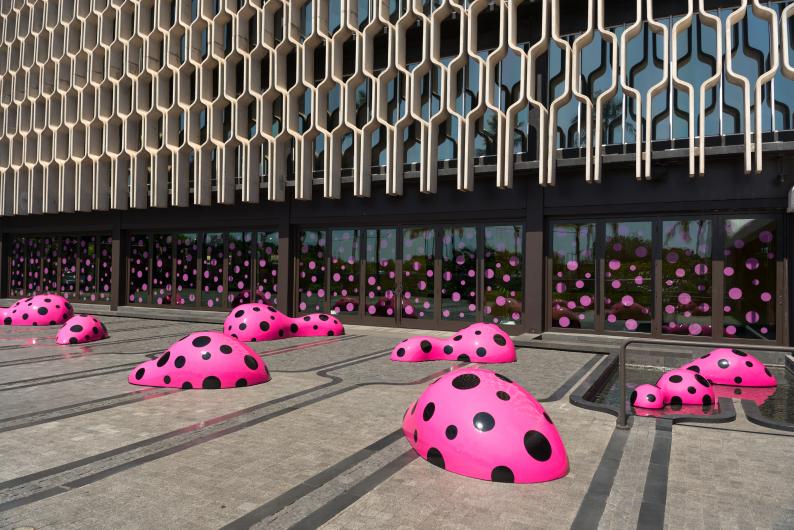 A rock star of the art world touches down in Honolulu.
Yayoi Kusama's traveling work, "Footprints of Life," is the Japanese artist's first exhibition in Hawaii and its currently on view at Ward Village. The outdoor art exhibit has traveled through cities like Nagoya and Taoyuan prior to here.
The installed sculpture—15 splashy, polka-dotted and hot pink blobs—sprawl about the IBM Building Courtyard. Its fluidity is felt in its configuration throughout the space where placement can feel random, but yet, you find yourself walking through what you convince yourself to be delineated pathways. Varied shapes and ever so slightly elevated off the ground, "Footprints" reach into far corners of the courtyard with a few even floating in water.
Is there a pattern to the chaos? Are these sluggish globs invading the space or am I infringing on them? These are questions you may find yourself asking, reaffirming the installation's intent to stimulate one's relationship with its environment—something many of us do daily here in Hawaii.
The use of polka dots figure regularly in Kusama's canon—an obsession with that's considered a trademark of hers. For the artist, dots are broad natural symbol that can represent our sun, moons, planets, people, the Earth, the universe as a whole. Dots allow for the viewer to interpret her work at both the micro and macro level: singularly they can mark a sole moment in time, collectively you see it as a representation of infinity. Lending itself to autobiography, Kusama actually sees spots in her vision because of a condition she's had since she was a young girl and has since harnessed into a six decade career in the global art scene.
The piece serves as a prelude to an original work Kusama will be debuting at next year's 2017 Honolulu Biennial, a contemporary art exchange featuring talents across the Americas, Pacific and Asian continent.
It also serves as a centerpiece for community building at Ward Village, which is hosting a slew of events including:
Sunset Tours, every Monday at 5:30 p.m.
"Yayoi Kusama: The Woman Behind The Dots" lecture and pau hana (after work get together)
Screening of documentary "Yoyoi Kusama: I Love Me"
Keiki art workshop
Art talk with Native Hawaiian artist Charlton Kupaʻa Hee, a talk story about the parallels of Kusama's work to local art
An all-day zine workshop
The exhibit runs until May 12, 2016.
---
Check out a full list of events surrounding "Footprints of Life" here.