Aloha, 2014! Best places to watch Hawaii New Year's Eve fireworks shows.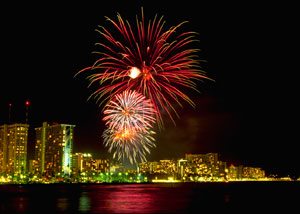 So you say you're wrapping up 2013 here in Hawaii?
Big fans that we are of warm, tradewind-kissed New Year's Eves, we're solid fans of bidding farewell to the old year and welcoming in the new right here in the Islands, too. But just because we're annually one of the final locales in the world to get to do both doesn't mean we prefer our New Year's Eves quiet.
A number of residents here follow a longtime New Year's Eve tradition of welcoming the new year with fireworks in their driveways and neighborhood streets. It's loud. It's smoky. It requires a permit. It's also a surprising and visually stunning sight for visitors checking out our 'burbs.
But if you're fortunate enough to be welcoming 2014 in the Islands this year, we're thinking you might also want to know where some of our large public displays of pyro (i.e. New Year's Eve aerial fireworks displays) are happening. Gosh knows, we do.
Below you'll find our list of Hawaii spots to catch the sky ablaze with New Year's Eve fireworks displays. We've got all the lowdown you need to know about public fireworks shows on Oahu, the Big Island of Hawaii, Maui, Kauai and even Lanai.
Hauoli Makahiki Hou!—that's Happy New Year!—and best wishes for 2014 from the staff ohana of HAWAII Magazine and HawaiiMagazine.com!
OAHU
Waikiki New Year's Fireworks
Midnight
The details: Visible from the entire Waikiki beachfront, this annual fireworks show—sponsored by Waikiki hotels and businesses and the Waikiki Improvement Association—even has a fireworks countdown before the main event.
Click here for more information
New Year's Eve Party of the Year
9 p.m., 10 p.m., 11 p.m., Midnight
The details: Fireworks every hour at Kakaako Waterfront Park in Honolulu, starting at 9 p.m., with a grand finale display at midnight. Festivities get under way at 6 p.m. Among other highlights: bands and DJs on multiple stages, an "Eat the Street" food truck festival and carnival rides, including a Ferris Wheel. Tickets are required to get in to the event. But aerial fireworks being, of course, aerial and all, you'll be able to see the displays anywhere near Kakaako Waterfront Park.
Click here for more information
• Ko Olina New Year's Lagoon Fireworks Spectacular
Midnight
The details: Annually the largest NYE fireworks show in Hawaii, the display here is typically launched over the West Oahu resort's four lagoons, which are open to the public. Area resorts, however, do charge for parking.
Note: The annual New Year's Eve Aloha Tower Fireworks show and block party was cancelled by Aloha Tower Marketplace owners Hawaii Pacific University this year.
BIG ISLAND OF HAWAII
Aloha 2013 New Year's Eve Pacific Rim Celebration
Midnight
The details: Hosted by the Mauna Kea Beach Hotel, the aerial display here will light up the resort's Kaunaoa Bay beachfront. The fireworks are part of the hotel's big New Year's Eve dinner and dancing celebration, a ticketed event open to hotel guests and anyone wishing to pay to be in attendance. Party guests are sure to have the best views, but with Kauanaoa Beach—and all Hawaii beaches—open to the public, if you can reach the beach you'll catch the fireworks.
Click here for more information

MAUI
Wailea Beach Fireworks
Midnight
The details: The best spots for the resort's annual fireworks are along Wailea Beach Park, or from hotels along the beach—the Grand Wailea resort hosts the display. If you're staying in Wailea, just take the Wailea Coastal Walk to Wailea Beach.
KAUAI
Poipu Beach Fireworks/New Year's Eve Music Fest & Fireworks Celebration
9:20 p.m.
The details: Hosted by the Poipu Beach Resort Association, the best views of this not-quite-midnight display are from Poipu Beach Park, where there will also be food booths, music and kid activities from 4 to 10 p.m.
Click here for more information

LANAI
Four Seasons Resort Lanai at Manele Bay Hulopoe Beach Fireworks
Midnight
The details: There are terrific views of the fireworks from the Four Seasons Manele Bay property (for hotel guests) and from the sands of neighboring Hulopoe Beach (for the general public).
Have we missed any Hawaii New Year's Eve 2013 fireworks displays that you know about? Let us know with an email to derekp@hawaiimagazine.com and we'll be happy to add it!