Aloha Airlines files for bankruptcy … again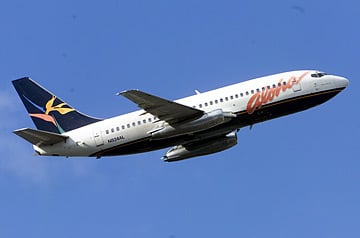 Inter-island air carrier Aloha Airlines Inc. filed for bankruptcy yesterday. For the second time since 2004.
If you've got a ticket, don't worry. Aloha Airlines is still flying its entire schedule, and is not canceling flights. Aloha's airfares are also expected to remain on par with its competitors despite the Chapter 11 reorganization filing.
Why bankruptcy then? Aloha cited the inter-island airfare war set off by Go! Airlines, not to mention the soaring cost of jet fuel. Aloha—which also flies to the West Coast—had recently emerged from bankruptcy in February 2006.
The Honolulu Star-Bulletin reported this morning that Aloha lost $81 million last year, following losses of $46 million in 2006 and $41.2 million in 2005. Aloha lost $11 million in January of this year alone. A story in the Honolulu Advertiser did not report 2007 full-year losses for Aloha.
Go! began service between the Hawaiian Islands in June 2006, reducing round-trip airfares to about half what Aloha Airlines and Hawaiian Airlines had been charging. Both carriers quickly dropped airfares to match Go! fares. The most-common low fare for all three carriers is currently about $49.
Aloha and Hawaiian have accused Go! of predatory pricing, aimed at driving them out of business. The two carriers had held a virtual duopoly on inter-island air travel for years, knocking several inter-island upstarts out of business before Go!
UPDATE, 3/22/08: Aloha Airlines is being put up for sale. Check out this morning's coverage from the Honolulu dailies here and here.