Aloha Airlines shuts down cargo operations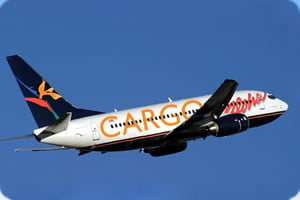 Another unit of Aloha Airlines lost its fight to stay alive this afternoon as the company announced it was shutting down cargo operations immediately.
Attorneys for the company informed a bankruptcy court judge that two companies interested in buying the cargo operation had pulled their offers today, leaving Aloha's primary lender GMAC unwilling to continue financing the company. The decision to shut down was announced at a bankruptcy court hearing determining whether Aloha cargo pilots could strike over a continuing contract dispute.
The impact of the company's demise is expected to be as severe on Hawaii interisland cargo service as the shutdown of Aloha's passenger service in March was on interisland travel. Aloha's cargo service accounted for more than 85 percent of Hawaii's interisland cargo business. Its customers included the United States Postal Service and major food and product suppliers on all islands.
The sole unit of Aloha Airlines still operating is its contract services division, which was recently sold to Pacific Air Cargo for $2.2 million.
Aloha Airlines shut down its interisland and transpacific passenger service on March 31 after more than 61 years of service. The airline had filed for bankruptcy earlier that month, citing the inter-island airfare war set off by Go! Airlines and the soaring cost of jet fuel for losses of $81 million in 2007 as reason.