Aloha Festivals 2010 hoolaulea block party, floral parade happening this week. Where to go.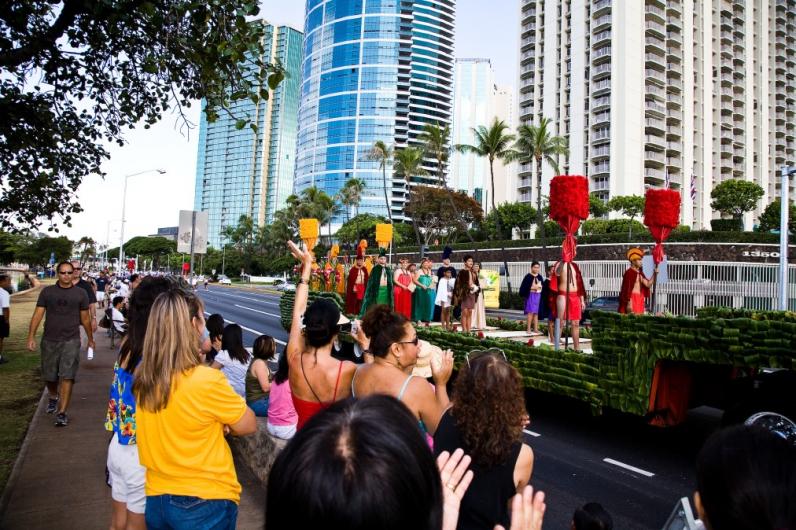 The two most-popular events of Hawaii's annual Aloha Festivals celebration are this week.
If you're on Oahu—particularly if you're in or near Waikiki—and have never experienced Aloha Festivals first-hand, we'd recommend setting aside some time to experience both of these events:
• Sat., Sept. 18, 2010, 7 p.m.: The Aloha Festivals Waikiki Hoolaulea
The Waikiki Hoolaulea (the Hawaiian word means "celebration") takes spans more than 12 blocks of Waikiki's main drag, Kalakaua Avenue, with live entertainment stages featuring Hawaiian music and hula halau (hula groups). The avenue will also be stocked with food, lei and craft booths. The block party is always popular … always a great night in Waikiki.
Kalakaua Avenue, Waikiki, between Lewers Street and Kapahulu Avenue
• Sat., Sept. 25, 2010, 9 a.m.: The Aloha Festivals Floral Parade
Waikiki offers the best curbside spots for this colorful assemblage of lavishly decorated floral floats, hula halau, marching bands and mounted pau riders. The parade starts at Ala Moana Park (on the ocean side of Ala Moana Center) moving down Kapiolani Boulevard and onto Kalakaua Avenue before ending at Kapiolani Park at the end of Waikiki.
Kapiolani and Kalakaua Avenues, Waikiki

Both events are free and open to the public. For more information on Aloha Festivals, visit the Aloha Festivals official website.
The Aloha Festivals, now in its 64th year, is one of Hawaii's longest-running cultural celebrations. The fest was founded in 1946 as Aloha Week, with its most popular event, even then, a floral parade—back then, meandering through metro Honolulu, too. The celebration was renamed Aloha Festivals in 1991, having long since expanded from seven days into to a two-month, six-island celebration with more than a hundred events.
In recent years, however, Aloha Festivals celebrations have been scaled down to Oahu-only events, mostly due to a drop in funding. (The independent Hawaii Island Festival: 30 Days of Aloha, happening this month on the Big Island, was founded when Aloha Festivals scaled back events on that island.)
An Aloha Festivals Kick-Off Block Party fundraiser was held in downtown Honolulu last month, with proceeds benefiting future fests. But you can attend the next one: the Taste of Helumoa Food & Wine Festival, happens on Sept. 25 at the Royal Hawaiian Center's outdoor Royal Grove in Waikiki.
Taste of Helumoa is a tasting event featuring food from 10 of the center's restaurants, wine and a Primo Beer Aloha Festivals ale. Tickets are $45 each. The Royal Hawaiian Center is located at 2201 Kalakaua Ave. Visit the Aloha Festivals website for tickets.
Can't make it to Aloha Festivals this year? Organizers have already set dates for the 2011 fest's big events: Sept. 17, 2011, for the Waikiki Hoolaulea; Sept. 24, 2011, for the Floral Parade.