Aloha Festivals 2013 hoolaulea block party, floral parade coming up. Here's the schedule.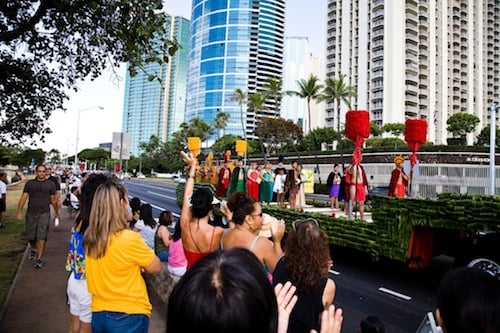 The Aloha Festivals celebrates its 67th year this month, still one of Hawaii's longest-running celebrations spotlighting Hawaiian culture, music, dance and history. Themed Moana Nui Akea, which translates to "Celebrate Ocean Voyaging," events for this year's festival aim to honor one of Hawaii's most significant traditions: ocean voyaging.
The theme coincides with the 40th anniversary of the Polynesian Voyaging Society, which over the decades has inspired generations of ocean voyagers and revived the tradition of waa kaulua, or double-hulled canoe sailing, and traditional wayfinding—navigation without the use of modern instruments.
Aloha Festivals' most popular events will occur over the next two weekends in Waikiki on Oahu: The Waikiki Hoolaulea on Sat., Sept. 21 and the Aloha Festivals Floral Parade on Sat. Sept. 28.
The 61st annual Waikiki Hoolaulea (the Hawaiian word means "celebration") is a big block party, shutting down more than 12 blocks of Waikiki's main drag, Kalakaua Avenue. Thousands of residents and visitors descend onto the thoroughfare, which is filled, for the evening, with multiple entertainment stages, food vendors and Hawaiian craft booths. Admission is free.
Sept. 21, 7 p.m., Kalakaua Avenue, Waikiki, between Lewers Street and Kapahulu Avenue.
One week later, Kalakaua Avenue offers the best curbside spots for the annual Aloha Festivals Floral Parade. The parade begins at Ala Moana Beach Park and heads east to Waikiki on Ala Moana Boulevard and Kalakaua Avenue before ending at Kapiolani Park at the base of Diamond Head. Thousands line the sidewalks along the route to see the parade's equestrian procession of pau riders, colorful flower-bedecked floats, hula halau (hula troupes) and marching bands.
Sept. 28, 9 a.m., Ala Moana Boulevard and Kalakaua Avenue
Both events are free and open to the public. For more information on Aloha Festivals, visit the Aloha Festivals official website.
The Aloha Festivals were founded in 1946 as Aloha Week, with its most popular event, even then, being its floral parade—back then, meandering through metro Honolulu, too. The celebration was renamed Aloha Festivals in 1991, having long since expanded from seven days into a two-month, six-island celebration with more than a hundred events. Aloha Festival events since 2007 have been scaled back and primarily held on Oahu, mostly to downturns in funding, but the parade, hoolaulea and Aloha Festivals royal court investiture (the last of these held earlier this month) continue.