Aloha Festivals adds more events to 2010 schedule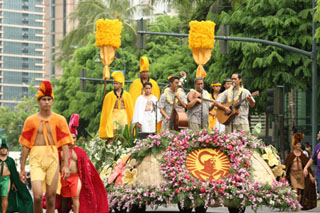 The 64th annual edition of the Aloha Festivals happens next month on Oahu.
As we reported back in January, organizers set dates for the Aloha Festivals' two most-popular events early. In case you haven't already saved the dates (or planned a trip to Oahu around them, as we know many of our readers do), these are:
• Sat., Sept. 18, 2010, 7 p.m.: The Aloha Festivals Waikiki Hoolaulea
The Waikiki Hoolaulea (the Hawaiian word means "celebration") takes spans more than 12 blocks of Waikiki's main drag, Kalakaua Avenue, with live entertainment stages featuring Hawaiian music and hula halau (hula groups). The avenue will also be stocked with food, lei and craft booths. The block party is always popular … always a great night in Waikiki.
Kalakaua Avenue, Waikiki, between Lewers Street and Kapahulu Avenue
• Sat., Sept. 25, 2010, 9 a.m.: The Aloha Festivals Floral Parade
Waikiki offers the best curbside spots for this colorful assemblage of lavishly decorated floral floats, hula halau, marching bands and mounted pau riders. The parade starts at Ala Moana Park (on the ocean side of Ala Moana Center) moving down Kapiolani Boulevard and onto Kalakaua Avenue before ending at Kapiolani Park at the end of Waikiki.
Kapiolani and Kalakaua Avenues, Waikiki
Recently, Aloha Festivals organizers announced a handful of official and co-related events for this month and September matching up with the fest's 2010 theme "Mele Ailana: Celebrate Island Music." Traditional Hawaiian music. Contemporary Hawaiian music. Hawaiian chant. Hula. You'll find one or more of these at all of the events.
If you're on Oahu between Aug. 27 and Sept. 25 and the Waikiki Hoolaulea and Floral Parade aren't enough Aloha Festival for your schedule, you may want to consider checking out the the events below as well.
Official Aloha Festivals events:
• Thurs. Sept. 2, 2010, 2 p.m.: Aloha Festivals 2010 Royal Court Investiture
The 2010 Aloha Festivals' king, queen, prince, princess and members of their royal court are formally invested in this ceremony at the Hilton Hawaiian Village in Waikiki, featuring Hawaiian chant and hula kahiko (traditional hula).
Hilton Hawaiian Village Beach Resort & Spa, 2005 Kalia Road, Waikiki
• Thurs., Sept. 2, 2010, 5 p.m.: Aloha Festivals Opening Ceremony
The royal court is introduced, with Hawaiian chant and hula, at this ceremony at the Royal Hawaiian Center's Royal Grove in Waikiki.
Royal Hawaiian Center Royal Grove, Waikiki, 2201 Kalakaua Ave.
Aloha Festivals co-related events:
• Fri., Aug. 27, 2010, 6-10 p.m.: Aloha Festivals Kick-Off Block Party Fundraiser
A portion of downtown Honolulu's Merchant Street, just outside of Murphy's Bar & Grill, will be shut down for food and drink booths and an entertainment stage. Proceeds from sales of food, drink, Aloha Festivals t-shirts and ribbons and a live auction benefit the fest.
Merchant Street, downtown Honolulu, between Bethel Street and Nuuanu Avenue.
• Sat., Sept. 11, 2010, 10 a.m.-3 p.m.: Aloha Festivals Keiki Hoolaulea
An Aloha Festivals celebration strictly for the keiki (children) filled with five hours of kid-friendly activities, demonstrations and entertainment by keiki musical groups and hula halau. Purchase an Aloha Festival ribbon and activities and Pearlridge Center monorail rides are free. The Aloha Festivals royal court makes an appearance, 'natch.
Pearlridge Center, 98-1005 Moanalua Road, Aiea
• Sat., Sept. 25, 2010, 6-9 p.m., Taste of Helumoa Food & Wine Festival
A tasting event in the Royal Hawaiian Center's outdoor Royal Grove featuring food from 10 of the center's restaurants, wine and a Primo Beer Aloha Festivals ale. It'll cost you to get into this one: Tickets are $45 each. But ticket sales benefit the Aloha Festivals.
Royal Hawaiian Center Royal Grove, Waikiki, 2201 Kalakaua Ave.
Except where indicated above, nearly every Aloha Festival event is free and open to the public. For more information on Aloha Festivals, where to purchase fest ribbons and t-shirts, and tickets for Taste of Helumoa, visit the Aloha Festivals official website.