Aloha Festivals finalizing dates, events for 2009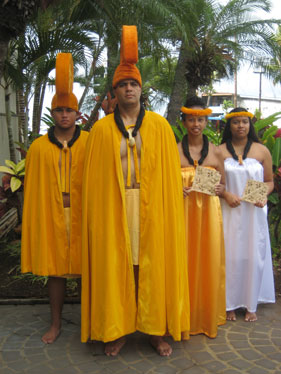 WE HAVE UPDATED THIS STORY! Please click here for updated Aloha Festivals schedules.
You ask. We answer.
HAWAII Magazine reader Carol Larson e-mailed us:
I love your magazine and Web site. Can you send me dates for the Aloha festival on Oahu in 2009? We want to plan our annual trip around those dates. Thank you.
Aloha Festivals is still planning its annual celebration, though all is not finalized. We were able to confirm the following events for Oahu:
Aloha Festivals 2009
• Saturday, Sept. 12—Pearlridge Keiki Hoolaulea
• Saturday, Sept. 19—Waikiki Hoolaulea
• Saturday, Sept. 26—Floral Parade
The Aloha Festivals is Hawaii's oldest and largest statewide celebration featuring food, music, hula performances and live entertainment. It was originally created in 1946 to mimic the Makahiki celebration season (Hawaiian New Year), which honored the Hawaiian god Lono.
For nearly 45 years, the festival was called "Aloha Week." In 1991, it became known as the Aloha Festivals when it expanded to 300 events on six islands.
For many years, Hawaii's two-month festival was held statewide in September, but in 2008, organizers were limited to planning events for Oahu only. The Aloha Festivals Floral Parade in Waikiki was also almost cancelled due to the lack of funds. But thanks to the city and private donors, the parade was saved and last year's festivities continued as planned.
According to Aloha Festivals' Web site, more information about this year's events will be posted in late February (we checked back and no new dates have been posted up yet). They don't know whether this year's festival will feature neighbor islands celebrations, but we'll be sure to keep you posted here on HawaiiMagazine.com.