Aloha Shoyu celebrates their 70th anniversary this year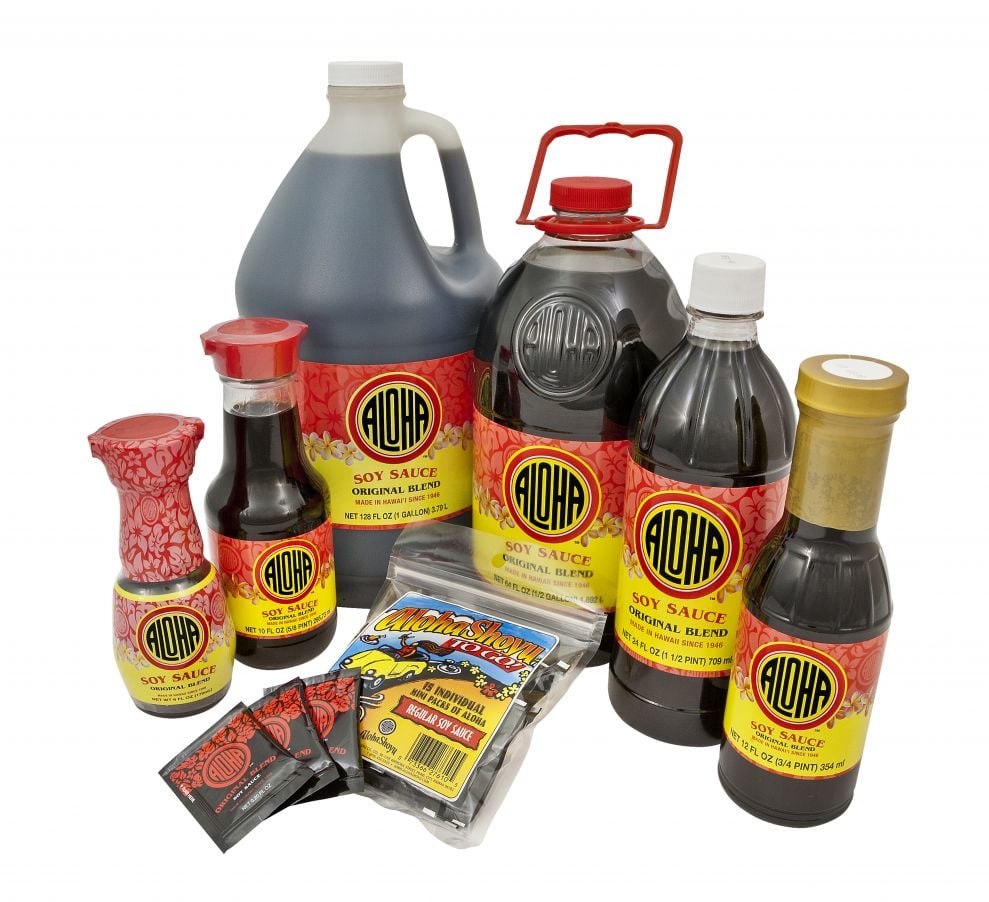 As a boy no more than 12 years old, Brian Tanigawa worked in his spare time lifting boxes, sweeping floors, and washing glass bottles at his family's Aloha Shoyu manufacturing facility in Kalihi. More than 45 years later Tanigawa can still recall the pungent scent of soybeans plastered to his clothes as he would head home to do school work.
More distinctly, Tanigawa remembers the close-knit atmosphere that surrounded the growing company, a trait that has carried Aloha Shoyu to its 70th anniversary this year.
"Lunchtime was good for a kid 'cause they'd cook for you. Everybody would sit down and eat together, it was a very family-oriented situation. There was a commitment to grow
the business and you could feel that even early on," says Tanigawa — who after 20 years as a pharmacist took over as Aloha Shoyu president in 2001.
Since its opening in 1946, Aloha Shoyu's management and loyal employees have worked steadfast, helping the company become the household brand that it is today. In a competitive market, Aloha Shoyu has used its notable name and piquant taste to become the #1 selling soy sauce brand in Hawaii.
Founded originally by five local families from Japan, Aloha Shoyu's flavor profile is a representation of each family's epicurean heritage and culture.
"Our family is from a place called Kumamoto in Southern Japan, In Kumamoto the taste profile for soy sauce is a lighter, sweeter product…much different than the darker, saltier products of Kikkoman or Yamasa, which are from further north in Kobe or Tokyo areas," says Tanigawa.
Formulated specifically to augment the flavor of foods, rather than overpower ingredients, Aloha Shoyu's leadership has found no reason to make many changes to the original blend that was conceptualized prior to World War II.
"It's really the same recipe. You look at the recipe and (flavor) profile we have and it's a different sort of product than what people are accustomed to," says Tanigawa.
That distinguished taste has helped sustain the company's positive reputation among Hawaii's local customers, restaurants and now larger retailers.
With a sound reputation on the islands, Aloha Shoyu has taken strategic strides to become more domestically and globally recognized. With warehouses now in California and Las Vegas, the company — for the past 10-plus years — has begun to expand its reach to mainland states and internationally, introducing its signature products to Japan, Korea and soon Mexico.
For all of their expanding ambitions, the family management team at Aloha Shoyu remains appreciative, never forgetting the modest beginnings from which they came. They've also never lost sight of the fact that if it wasn't for the hundreds of dedicated employees that have contributed over the decades the company never could have experienced the growth of success that has been accomplished.
Recognizing each employees' value, in 2004, Aloha Shoyu implemented an employee stock ownership plan, an agreement made by the board of directors to involve the employee-base as employee-owners.
"The ESOP (employee stock ownership plan), was really a statement by the company as a way to say thank you. I came from a corporate sector where profit sharing and employee ownership is a situation I believe in. Overall it's a good vehicle for the company and I'm hoping our employees appreciate it," adds Tanigawa.
Outside of its business model, Aloha Shoyu has been adamant about giving back and supporting the local communities that have been loyal to their brand for decades.
They've donated generously to local nonprofit organizations and have set up annual scholarship programs for students at University of Hawaii at Hilo's Daniel K. Inouye College of Pharmacy. Partnering with Big Brothers Big Sisters, Aloha Shoyu created a scholarship program for participating youngsters.
"You have to give back. We're committed to supporting local communities in Hawaii and on the mainland."
For their products, service and presence in business, as well as in the local community over the last 70 years, Aloha Shoyu continues to be recognized by its peers in the food and manufacturing industries. Earlier this year Aloha Shoyu received the Governor's Lifetime Achievement Award from the Hawaii Food Manufacturers Association. Only months later the company was inducted into the Hawaii Restaurant Association's 'Hall of Fame' as Legacy Members.
Sustaining 70 years of business is not an easy task, especially for family run businesses. According to the Family Business Institute only 30 percent of family businesses survive into the second generation. Even more burdening only 12 percent of those same businesses are still "viable" into the third generation.
Approaching the fourth generational wave of leadership in the company, Aloha Shoyu is passing the test of time. Along with each and every employee and the decades of local, supportive customers, they credit their family-oriented approach to business as the intangibles for their success.
"Succession is always on my mind. I think we have a management team that comprises not of only my generation of leaders, but also the up-and-coming group of leaders that we hope to work with that will sustain the success we've established as a third generation," says Tanigawa.
As the products and facilities of Aloha Shoyu have grown significantly since the early days of the 1940s, a testament to their expanding reach is the local, traditional values that have remained unwavering, helping a once simple soy sauce company become a global enterprise.