America the Beautiful Quarters Program to release coin featuring Kilauea volcano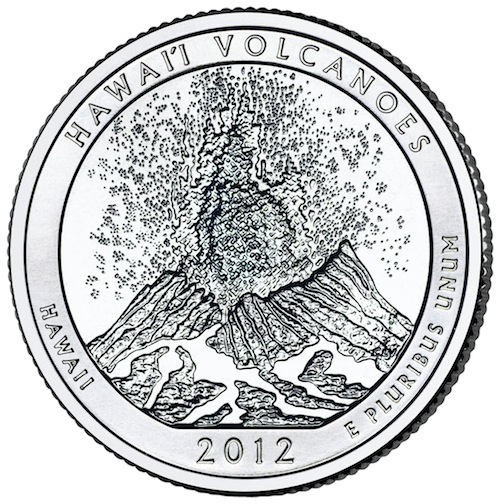 The United States Mint will officially release the new Hawaii Volcanoes National Park quarter during a ceremony set for tomorrow (Wed., Aug. 29) near Kilauea, the Big Island volcano depicted on the coin.
The public is invited to attend the ceremony, and the new coin (pictured, right) will be available for coin/currency exchange. Park entrance fees will be waived while festivities are under way, between noon and 3 p.m. The ceremony is slated to start at 1:30 p.m. at Kahua Hula near Kilauea Visitors Center.
During the ceremony, some 2,000 Hawaii Volcanoes National Park quarters will be poured into a special receiving bowl and then handed out to schoolchildren in the audience. For anyone else interested in picking up the new coin, $10 rolls of the commemorative quarters will be available for coin/currency exchange.
The new quarter is part of the United States Mint's America the Beautiful Quarters® Program. The coin features an engraved image of an eruption on Kilauea's East Rift Zone on its reverse (tails) side and inscriptions that read HAWAII VOLCANOES, HAWAII 2012 and E PLURIBUS UNUM. It was designed and sculpted by United States Mint Sculptor-Engraver Charles L. Vickers.
The Hawaii Volcanoes' quarter is the fourth quarter to be launched this year, and the 14th in a series of 56 circulating America the Beautiful Quarters. The reverse side designs are symbolic of a national park or other national site in each state, the District of Columbia and five U.S. territories. All coins in the program have a common obverse (heads side) featuring, of course, the portrait of George Washington and the inscriptions UNITED STATES OF AMERICA, LIBERTY, IN GOD WE TRUST and QUARTER DOLLAR.
In a news release issued by Volcanoes National Park, its superintendent, Cindy Orlando, said: "This highly collectible quarter is a significant milestone for Hawaii Volcanoes National Park, for the residents of Hawaii, and for the Hawaii Island destination. " She added that now everyone may carry in his or her pocket a reminder of Hawaii's first World Heritage Site.
This year, the World Heritage Program, which is operated by the United Nations Educational, Scientific and Cultural Organization (UNESCO), is marking its 40th anniversary. It designated Volcanoes National Park as a World Heritage site in 1987 for its "superlative attributes of universal value important to the common heritage of humanity — in particular, the park's biological, cultural and geologic resources," according to the news release.
Two years ago, Papahanaumokuakea Marine National Monument —the largest single area dedicated to conservation in the United States — was dedicated as Hawaii's second United Nations World Heritage site. The 140,000 square-mile monument — stretching from Nihoa Island, northwest of Kauai, to Kure Atoll — is home to over 7,000 marine species, one-fourth of which are found nowhere else on Earth.
Puu Oo, a cinder cone on Kilauea volcano's eastern flanks (pictured, left), began erupting in January 1983. The ongoing 29-year Puu Oo eruption, among the longest-lasting Hawaiian eruptions in recorded history. The first written accounts of eruptions in Hawaii date back to the 1820s, when American missionaries arrived on the Big Island.
Daily updates on Kilauea volcano activity are available at the Hawaiian Volcano Observatory website.
HawaiiMagazine.com reports regularly on lava activity at Kilauea volcano and Hawaii Volcanoes National Park on the Big Island. Click here to catch up with all of our Volcano News posts. You can also follow our updates on our Twitter and Facebook pages.