"American Idol" does Iz's "Over the Rainbow"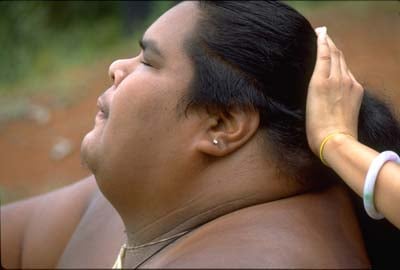 If you were one of millions of television viewers watching American Idol last night, you know that contestant Jason Castro sang beloved Hawaiian musician Israel Kamakawiwo'ole's arrangement of "Over the Rainbow."
The contestants were supposed to sing songs that inspired them. The dreadlocked, typically mellow Castro called the song "really magical. He [Iz] really captured what the song was all about … hope (and) dreams coming true."
Nice.
Castro started the song solo with just an 'ukulele—Bruddah Iz style.
Then the string section from the house band swelled. Castro made a questionable falsetto choice. It was over.
Judge Randy Jackson, seemingly beyond amazed, called the performance "blazing, molten hot." Sort of like Kilauea, dawg?
Paula Abdul said, "I love that version of the song. You did a great job." Awww, Paula … always so sweet.
Even the notoriously acerbic Simon Cowell praised Castro's take as "fantastic"—though not before oddly querying, "This is the version which is out on the Internet by 'Israel' somebody, right?"
Come on, Simon.
Bruddah Iz's version has become the definitive version of the song, second only to Judy Garland's Wizard of Oz version. It's been in films, television shows and—bless Madison Avenue—commercials. Kamakawiwo'ole CDs featuring the song have sold a million-plus copies worldwide.
Show some respect, Cowell. Or at least, Google the man's name, the next time you're on the Internet.
We're always to happy to see one of our favorite Hawaii musicians get some serious props when millions are watching and listening. But as far as Castro's version being "fantastic," well, sorry, but we've heard Iz's original.
You be the judge. Here is Castro's version. And here is IZ.