An insider's guide to 16 of Honolulu's bars, clubs and brewpubs
Head out to these nightlife hotspots in Kakaako, Chinatown and Waikiki.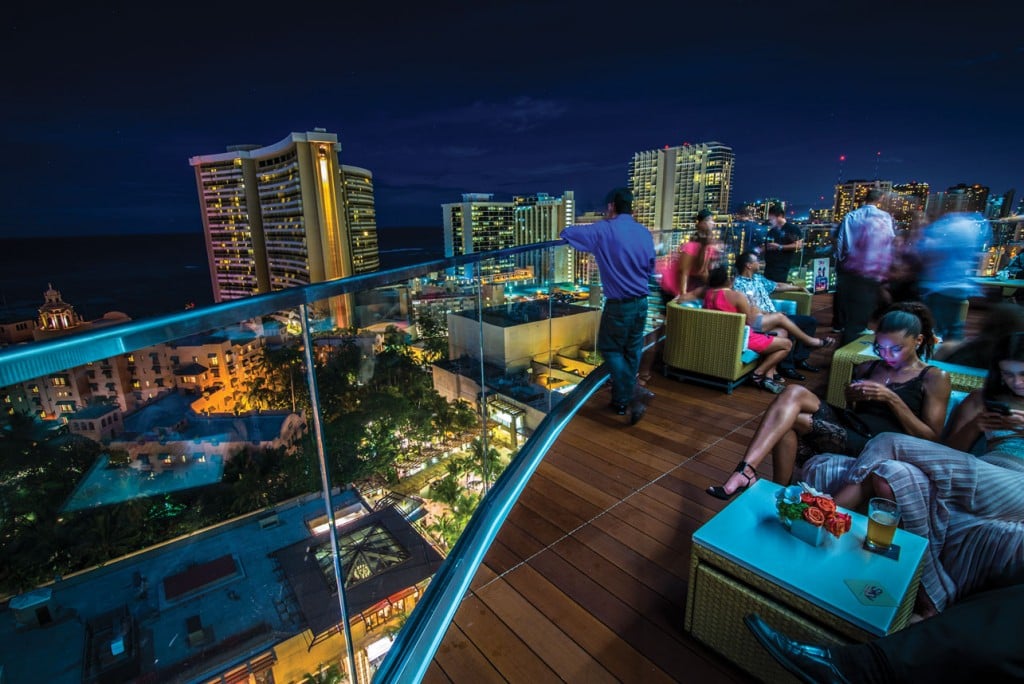 Believe it—Hawaii has nightlife (and no, we're not talking about a luau). Here's where to find world-class cocktails, live music concerts, brewpubs, a members-only club and a dance floor on a rooftop 21 stories above Waikiki.
How to bar hop in Kakaako
Once an industrial district, Kakaako, a Honolulu neighborhood on the island of Oahu (about 10 minutes outside of Waikiki) has turned into a thriving urban center, thanks to the redevelopment that's happened there in the past five years. Many bars have since sprouted up on multiple blocks—all of them incredibly fun and worth a stop.
Start at the craft brewery Honolulu BeerWorks. Its open-air warehouse brewpub with shared picnic tables is always buzzing with people eating and drinking. Walk a couple blocks to Village Bottle Shop & Tasting Room for another glass of craft beer from over 400 brews such as Kona Brewing Co. and Beer Labs HI.
If you want another change of scenery, take the leisurely stroll past the large-scale building-painted murals and finish your night at The Brewseum—a one-of-a-kind half bar and half World War II and Hawaiiana museum experience. But, if you're ready to move on to crafted cocktails, go to speakeasy-inspired Bevy and order the Mai Thai, the bar's unique take on the classic drink.
A night out in Kakaako isn't complete unless you finish at popular local hangout, Café Duck Butt. It's a lively Korean restaurant and karaoke bar, and their watermelon soju is hard to resist.

Honolulu after dark
Christa Wittmier, Hawaii's first independent nightlife blogger at supercw.com, shares her favorite hotspots for dance, music and wine.
As told by Christa Wittmier
The only clubs are District, Sky Waikiki, Ginza and RumFire, really. This is more of a bar town: Pint & Jigger, Pig and the Lady, Livestock Tavern, Tchin Tchin Bar, where you're going out to eat but you can stay there, which is cool. It's kind of European. It's almost like we unofficially became European.
I love Tchin Tchin because the atmosphere is not intimidating, but it's also very posh. It's, like, posh without being intimidating. And it has a great selection of wine, extremely really good selection of wine. If you want to actually drink a good glass of wine, you should go to Tchin Tchin. It's my No. 1 pick.
RumFire is good because you're on the water and you're outside and that's really cool. Sky Waikiki's cool because it's in the city and is more cosmopolitan. And they're right across the street from each other, so you could go to either. So that's good. I think it would be good to check them both out, because they're like night and day, the sky and the ocean.
I think there's a really good music scene that's a little underrated. There are a lot of bands playing in Chinatown at Downbeat Lounge. There's also The Republik, which always has the bigger acts. It's worth it to see who's playing or who's here. But, I would say, you should go see someone you have no idea what it is. If you're into underground house music or techno or deep house, go to Asylum After Hours. It's a members-only club, and you have to go to Resident Advisor (residentadvisor.net) to buy tickets. They'll let you in, if you buy tickets online.