Andrew Rossiter: 5 Things I Love About Waikiki Aquarium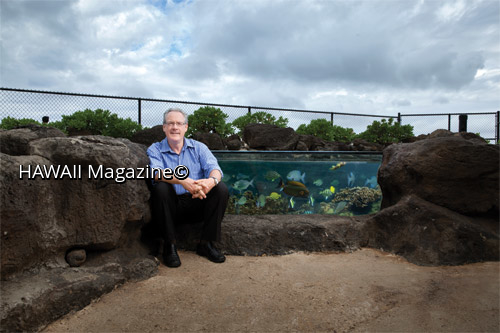 For the 350,000 or so residents and visitors who tour it each year, the Waikiki Aquarium offers a colorful window on Pacific Ocean undersea life. For Andrew Rossiter, the aquarium's director since 2004, however, it's a world-class facility where marine life exhibits share a Pacific shoreline home with critical education projects, conservation efforts and international research.
"We have a high number of species here that you won't find in any other aquarium in the world," says Rossiter. "Smith's butterflyfish from the Pitcairn Islands, the beautiful peppermint angelfish, bearded armorheads, only here and in Tokyo's aquarium. Our Northwestern Hawaiian Islands exhibit has fish and corals you won't see anywhere else."
Growing up in Wales, sea creatures he'd find in local tide pools fascinated Rossiter. He and his grandfather would feed remnants of their Sunday lunches to sea anemones. Though his 30-year career as a scientist, educator and administrator has led to work on five continents and multiple studies on the ecology, evolution and behavior of an array of animals, says Rossiter, "I've been fascinated with fish as long as I can remember."
Corals occupy a high profile at Waikiki Aquarium, the second-longest-operating public aquarium in the United States, founded in 1904 and celebrating its 110th anniversary this year. In laboratories behind public viewing galleries, marine biologists conduct research on the deepest-thriving photosynthetic corals in captivity, some of which absorb sunlight at depths of 300 feet.
The Waikiki Aquarium was the first in the world to display live corals and propagate them in captivity. Rare and threatened Hawaiian corals are housed and bred in its "Coral Ark," a reservoir should they go extinct in the wild. Waikiki Aquarium scientists also perfected methods for safe shipment of live coral to aquariums and research institutions worldwide.
"A metric of our success is there is not a single public aquarium on the U.S. mainland showing live corals that does not have something from us," says Rossiter. In 2005, a consortium of aquarium directors voted Waikiki among its top four favorite aquariums.
"That's a terrific vote of confidence by one's peers," Rossiter says.
The five things he loves about the Waikiki Aquarium?
1. REAL-LIFE EXHIBITS
"By international aquarium standards, we are small in size but huge in stature and reputation. We are world-renowned for our many 'firsts,' our achievements, and the quality and accuracy of our displays. Everything in our exhibits is live and ecologically realistic—no plastic corals, no sunken pirate ships and no mermaids. Looking into many of the exhibits, with their live corals and multicolored fishes, is like scuba-diving in a real underwater habitat, without getting wet."
2. RESEARCH & EDUCATION
"While nowadays many public aquariums are moving away from being entertainment venues, into facilities that offer education and conservation perspectives, the Waikiki Aquarium has long been at the forefront of this trend. Additionally, our 90-plus-year affiliation with the University of Hawaii at Manoa has fostered an emphasis on marine research. Ongoing programs to consolidate and expand these areas excite and inspire me."
3. COMMUNITY
"We host over 32,000 local schoolchildren each year as well as casual visitors. The majority of people on Oahu have likely visited at one time or another, and left with warm memories."
4. NEW STUFF
"A new ocean science laboratory; a new seahorse, sea dragon and pipefish gallery; and a new live feeds unit are just three projects scheduled for completion [in 2014]. Another major plus will be the addition of highly qualified individuals to complement our expert team. These and other advances will enable us to maintain a facility of which all Hawaii can be proud."
5. REVELATORY
"I am especially proud of our bringing Hawaii's unique marine life to our visitors. Not everyone can don a snorkel and mask and view Hawaii's fishes in their native habitat. And even those who can, may learn or see something here they didn't know before."