Annual Gabby Pahinui music fest honors pioneering Hawaii musician with song and dance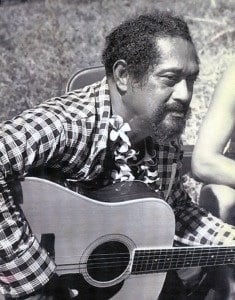 There's nothing like a lively kanikapila (Hawaiian for "impromptu jam session") on the beach.
And when that kanikapila honors the late, legendary Hawaii slack-key guitarist/vocalist Gabby Pahinui, in his hometown no less, you can expect some of the best musicians in the Islands to show up to jam.
The 6th annual Gabby Pahinui Waimanalo Kanikapila happens this Saturday, Aug. 10, at Waimanalo Beach Park on Oahu's windward side. The day-long event aims to celebrate the life and music of Pahinui, while perpetuating Hawaii's musical identity and acknowledging the long musical heritage of the Windward Oahu community of Waimanalo. More than 150 musicians and hula dancers are expected on stage throughout the day, paying tribute to one of Hawaii's most influential musicians.
In addition to performances, the event offers cultural demonstrations and displays, educational and informational booths, lomi lomi massage booths, food booths and craft vendors. It all kicks off at 9 a.m. and finishes at 6 p.m.
Though celebrating only its sixth year, the Kanikapila's roots go back to the years before Pahinui's 1980 passing. On weekends, musicians would gather at the Pahinui home in Waimanalo for jam sessions and a bowl of Hawaiian-style beef stew with rice. Regular guests included slack-key greats Leland "Atta" Isaacs, Sonny Chillingworth and Ray Kane, along with Aunty Genoa Keawe, Jessie Kalima, Joe Marshall, Palani Vaughan and Peter Moon. As Pahinui's fame grew, so did attendance at these backyard kanikapila. It wasn't uncommon for more than a hundred musicians and fans to show up on some weekends to jam with or listen to the slack key master affectionately called "Pops."
A modern version of those backyard jam sessions, the Waimanalo Kanikapila perpetuates the tradition of backyard jam sessions and Pahinui's pioneering contributions to Hawaiian-style kihoalu (slack-key guitar) music.
Pahinui was one of the great 20th century masters of Hawaiian vocal, slack key and steel guitar music. A self-taught musician, he counted big band and jazz music among his musical influences. Over the years, he mastered the ukulele and guitar, pairing both with his bright, wonderfully roughhewn falsetto—a voice that became even raspier with age but only made the sound of it more striking and memorable. Pahinui played an especially prominent role in popularizing traditional Hawaiian music during the Hawaiian Renaissance—an early 1970s revival of Hawaiian cultural identity expressed in language, music, hula and other elements defining the culture's roots.
In May 2012, Pahinui's Hula Medley (1947), performed on slack-key guitar, was among 25 sound recordings selected for induction into the National Recording Registry of the Library of Congress, preserved among works of music deemed "cultural, artistic and/or historical treasures for generations to come." Hula Medley was honored by the Library as one of the first modern recordings of Hawaiian slack-key guitar.
The Gabby Pahinui Waimanalo Kanikapila is a free event. Fundraising for it is mostly accomplished prior to and during the concert via T-shirt sales. T-shirts are available for purchase at the event or in advance online. For more information about the performance schedule and T-shirts, click here.
For more information about the 6th annual Gabby Pahinui Waimanalo Kanikapila, click here.
Want to get an early start on the kanikapila and hone your kihoalu and ukulele skills? At 1 p.m. the day before the event— Friday, Aug. 9—stop by the event's annual slack key and ukulele workshop, held at the pavilion named for Pahinui at Waimanalo Beach Park.