Annual Hawaii Rice Fest honors our Islands' favorite carb with food, fun and massive Spam musubi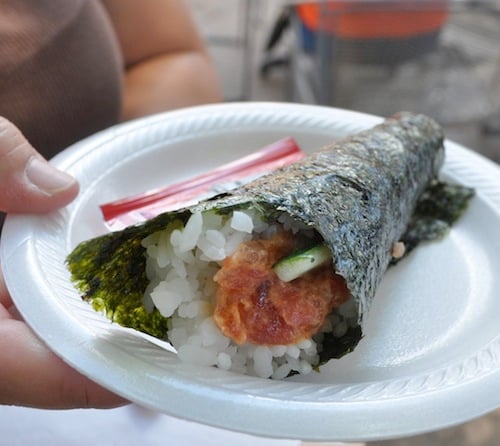 You can't have a Spam musubi or the makings of a decent Hawaii-style plate lunch without one very necessary ingredient: rice.
So it's no wonder that (as with Spam Jam for Spam) this starchy staple has a popular local celebration dedicated to it every year.
The 4th annual Hawaii Rice Fest, happening from noon to 5 p.m. on Sun., Sept. 1, at the Ward Centers shopping complex in Honolulu, will celebrate Hawaii's favorite carb with more than 30 food booths (featuring rice, of course), professional chef demonstrations, and an attempt to break the Guinness Book of World Record's largest Spam musubi record, set at last year's Rice Fest.
In 2012, the Rice Fest team constructed a massive block of cooked rice, Spam and nori seaweed weighing in at 628 lbs., breaking its previous record of 286 lbs. set at Rice Fest 2011. For the record, the official weigh in of this year's Rice Fest contender will take place at 4:30 p.m.
Before that grand event, however, Chef George "Marvo" Mavrothalassitis, chef/owner of multiple-culinary-award-winning Honolulu restraurant Chef Mavro, and his pastry chef, Elizabeth Dippong, will put on a rice-themed cooking demonstration at 2 p.m., followed by music performances by ukulele virtuosos Honoka & Azita and contemporary Hawaiian music group Kapena.
If the food booths aren't enough to sate your rice craving, enter the fest's official Spam musubi eating contest.
Festival organizers will be also be accepting monetary or brown rice donations for Lanakila Pacific's Meals on Wheels program. The nonprofit, volunteer-run program is Hawaii's only island-wide meal service for seniors.
Go ahead, give up that no-carb diet for one day. You can hit the gym after Labor Day weekend.
For additional information about Hawaii Rice Fest 2013, click here.