Annual "I Love Kailua" Town Party celebrates Windward Oahu's leafy beach town-suburb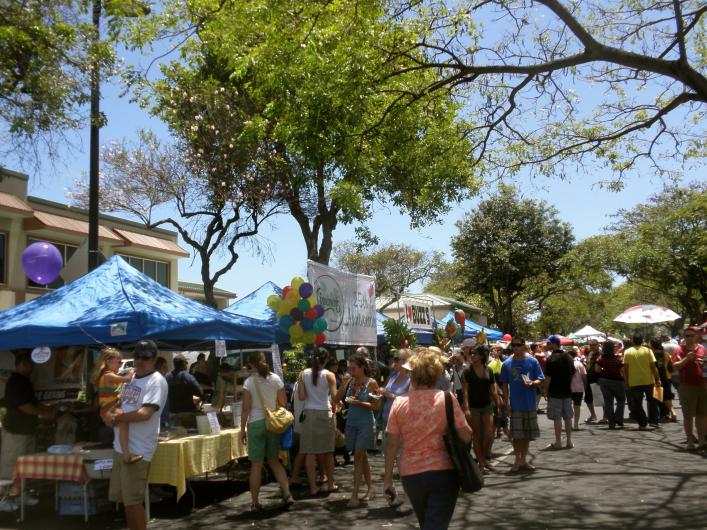 You've gotta love Windward Oahu's Kailua town.
From the shoreline of Kailua's sugar-white sand beaches you can paddle a kayak in gentle waters to the nearby Mokulua Islands, which serve as a protected seabird sanctuary. On breezy days you'll see wind surfers twisting colorful parachutes above the waves in Kailua Bay. After working up an appetite you can find eateries serving up anything from a breakfast of macadamia nut pancakes and Portuguese sausage to a dinner featuring fish fresh from Hawaiian waters.
For these reasons and countless others, the outdoorsy, easygoing beach town-suburb will be celebrated this Sunday, 11 a.m. to 4 p.m., at the 19th annual "I Love Kailua" Town Party. The event will feature "A Taste of Kailua," with more than 20 area restaurants offering treats ranging from fresh malasadas to crepes and curry dishes.
Also on the menu will be live music, as well as the work of local artists and several dozen Windward artisans. You'll also find a plant and orchid sale, and a keiki fun zone with rides and activities for the wee ones.
Partygoers are encouraged to walk or bicycle to the event, which will be staged along Kailua Road's shopping and restaurant area. In past years, the party has drawn crowds of up to 10,000 people. All traffic lanes and sidewalk areas along Kailua Road, from Hahani Street to Kuulei Road, will be closed.
"I Love Kailua" Town Party is a fundraiser for Lani-Kailua Outdoor Circle, a nonprofit founded in 1948 to keep Kailua and Lanikai clean, green and beautiful through landscaping and maintenance projects in area public parks and along roadsides.
More information about the party and the Outdoor Circle is available online at www.lanikailuaoutdoorcircle.org.