Are you Ironman enough to pony $10,000?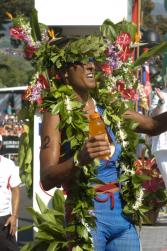 Would you spend a minimum $10,000 to run the Big Island's famed annual Ironman Triathlon Championship in October?
Perhaps if the money went to a trio of worthy charities, including two based in Hawaii?
For a sixth year, Ironman is holding an eBay auction for six slots in the world's premier triathlon. The minimum bid for each of the slots is $10,000. All of the money raised goes to the charities—St. Joseph's Children's Hospital in Florida, Hospice of Kona Hawaii and Kalaoa Volunteer Fire Company.
Bidding starts on April 13, with one slot put up for auction per week. Slots in past years have gone for an average of $40,000—so make sure your mortgage is paid this month before pressing that shiny blue "place bid" button.
On a personal note: We less-than-athletic types would think twice about taking on the event's 2.4 mile swim, 112 mile bike ride and 26.2 mile marathon— all under the hot Kailua-Kona sun. Never mind paying $10,000 to $40,000 for the privilege of doing so.
But that's just us.
We do, however, commend anyone with enough athleticism, cash and 30+ SPF sunscreen willing to take Ironman up on this.
Look for an auction link at the Ironman's official Web site here in the next few weeks.