At Mahina & Sun's, a menu that appeals to visitors and locals alike
Chef Ed Kenney on his new Waikiki restaurant, bringing residents back into Oahu's most touristed city through food and why you won't find ahi on the menu (for now).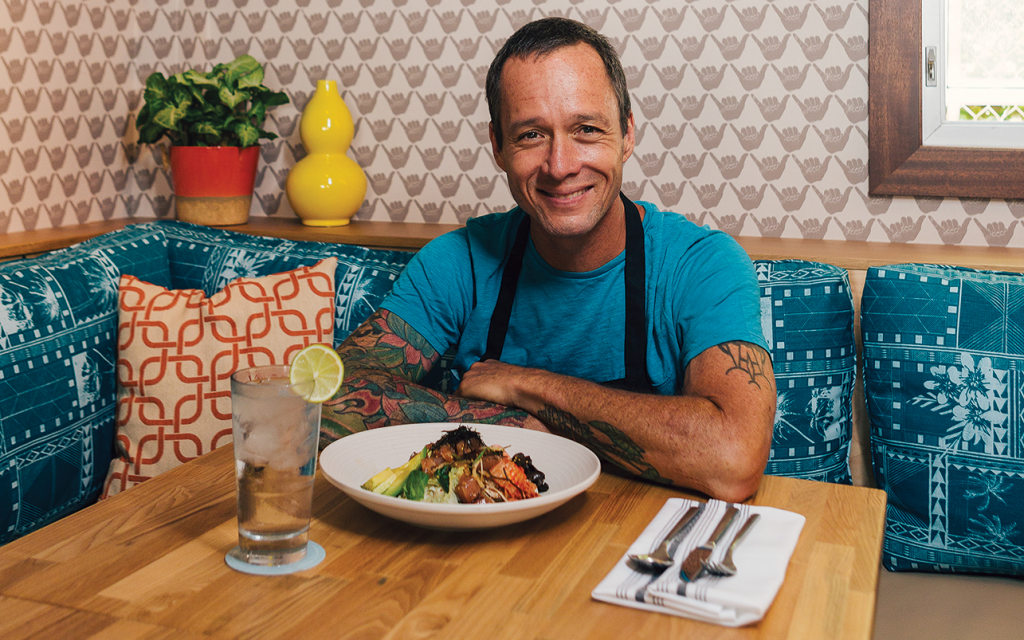 Oahu chef Ed Kenney knows a thing or two (or three) about food that brings communities together with his trifecta of restaurants in homey Kaimuki: Town, Superette and Mud Hen Water. Now, with Mahina & Sun's, at the Surfjack Hotel & Swim Club, he's about to pop Waikiki's tourist bubble.
HAWAIʻI Magazine: Kaimuki is your comfort zone. Why branch into Waikiki?
Chef Kenney: Waikiki, truthfully, was never on my radar because local people, we just don't go there. I was approached by the developers of the hotel to come and take a look at their project and in the initial meeting they were romanticizing about a bygone time—mid-century '60s, early '70s Waikiki that's entirely different than what you have down there now with the luxury brands, Cheesecake Factory, Apple store—and paying homage to it with a modern version of that era. They liked what we're doing in Kaimuki and wanted that neighborhood, friendly atmosphere. Not a five-star destination chef, just somewhere comfortable for locals and visitors to come back to, and that's what really gets me going, seeing the same people day in, day out. I look at the reservation book and there are more 808 area codes than mainland area codes. It's a good sign.
How do you build that community then with food?
It was tricky making this menu. In Waikiki, you have to appeal to a broader audience of visitors that might not want to eat paiai (undiluted taro), akule (big eye scad), pohole (native fern) salad, a Hawaiian feast every night.
We touch on these indigenous dishes so the guest can experience that part of Hawaii I don't think many had the opportunity to taste in Waikiki before, but at the same time offer the comforting things, you know? If they've been out eating shave ice and shrimp trucks all day, they might come back and just want a burger, pasta or pizza. Those dishes still adhere to our dedication to local farms—a bolognese, but we use Hawaiian wild boar, a burger, but with Kuahiwi Ranch beef and Mao Farms lettuce. They look familiar, but they still have a little story behind them.
As the only Hawaii chef following the Monterey Aquarium's Seafood Watch Program, your seafood sourcing practices are unique. Why's it important to you not to serve ahi year-round?
Being born and raised here, you realize we're on an island and our resources are finite. It's just this love of this place—that's the foundation of why we do what we do. You can't just put any seafood we have here on the menu. Our boats, the longline fleets, are incredibly well managed, but because we've got international fleets pulling out of the same ocean, it's still questionable about ahi stock. What's been really nice is our practices gives an opportunity for people who want to engage in a discussion about these things to learn a little more if they choose.
What's your earliest Waikiki food memory?
Gosh! It would have to be when my parents, who are Hawaiian entertainers, would perform at the Sunday brunch at the Halekulani, when it wasn't a high rise but a series of bungalows on the beach. I remember there was always a roast suckling pig and I would just have them cut off chunks of crispy skin and basically fill my plate with it.
---
Mahina & Sun's, open daily, 6:30 a.m. to 12 a.m., 412 Lewers St, Honolulu, Oahu, surfjack.com.