At Oo Farm, a true farm-to-table experience in Upcountry Maui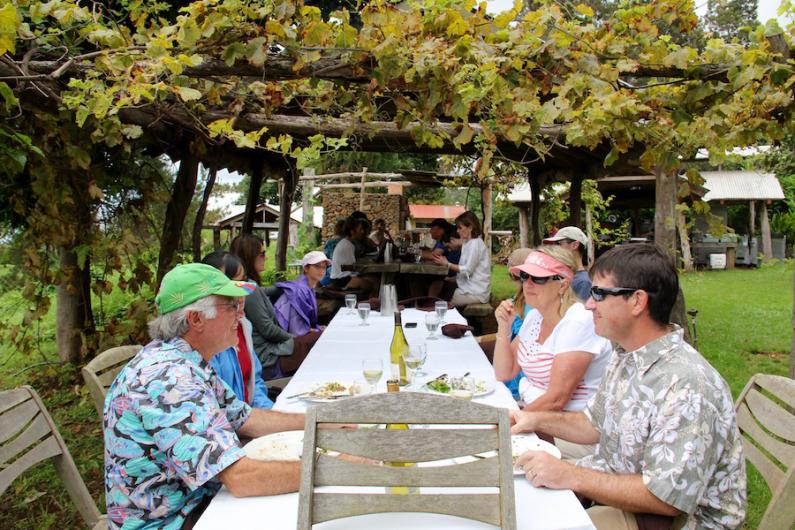 Once you've had your fill of Maui beach days, consider a visit to Upcountry. There, in Kula, a farm-to-table experience operated by Lahaina beachfront restaurant Pacfic'O takes foodies and coffee aficionados on tasting tours of their private culinary farm – the only one of its kind on Maui. Eight-and-a-half-acre Oo Farm grows greens, herbs, vegetables, citrus, coffee, avocado, beans, and more for exclusive consumption by restaurant patrons and tour participants.
I signed up for Oo Farm's gourmet lunch tour and before it even begins, I'm already enamored. The smell of eucalyptus is everywhere, butterflies zoom by and birds and roosters crow in the distance. The scenery isn't bad either. From our vantage at 3,500 feet above sea level, the Northern and Western coasts spread endless greenery into the distance, and the foggy Haleakala summit sits behind.
The tour starts in the coffee and olive fields where Richard Clark, farm manager and tour guide, explains coffee harvesting and roasting. Balancing a breadth of information on farming practices with an infectious sense of humor, Clark invites everyone to pick a ripe, red coffee cherry off the nearest bush and open it up. Inside we find two coffee beans and drink the sweet juice. Hawaii, we learn, is the only U.S. state that produces its own coffee.
Afterward, we walk up the hill through the citrus trees to get the first glimpse of our picturesque outdoor dining area and meet Daniel Eskelson, the farm's full time chef. He explains every aspect of lunch in such an appetizing way, most of the group looks ready to forego the tour and just eat.
Clark then leads us to the fields to get our hands dirty and harvest our own ingredients for a salad. At several points along the way, he invites the group to sample things straight from the garden—edible flowers, chocolate spearmint, raw kale, and greens we've never heard of. The farm's sustainable cultivation methods allow us the luxury of eating right off the plant. The sorrel lettuce tastes like green apple and lemon, just as Clark promises, and helps ward off the hunger after all this food talk.
After touring the farm, picking our own salad ingredients and visiting the coffee roastery, I'm salivating in anticipation of Chef Eskelson's feast. Lunch is served family-style on long wooden benches surrounded by decorative lighting, foliage, and surreal Island vistas.
The meal is worth the wait. Every intoxicating bite of the three-course lunch reveals some of the most succulent, adventurous, and heavenly flavors I've tasted. Fresh fish in lemongrass oil drizzled with garden-grown Kaffir lime follows a dish of baked tofu with oven roasted herbs and vegetables. Tender chicken, hot from the wood oven, takes its simple flavors from the estate-grown rosemary. There's steaming cups of O'o Farm's Aina coffee and homemade bread. The meal is capped with fresh tropical fruits and a different rendition of the farm's coffee: espresso chocolate truffles.
Stacy, a woman seated near me who is visiting with her daughter from from California, explains the tour's appeal: "It's neat to be able to pick the food you're going to eat. The farm-to-table movement is pretty popular, but you just never know if it really came straight from the farm. It's nice to know here that it did."
Though a $58 lunch seems a little steep even by Maui standards, the amount of knowledge, the promise of the freshest farm-to-table meal on the Hawaiian Islands, and the unmatched bi-coastal view seem like a steal when it's all over. If you've had your fill of resort food, head up to Kula, get a little dirty, BYOB, and enjoy the quiet charm of farm life.