Bali Hai calls again! Mitzi Gaynor Kauai bound for South Pacific celebration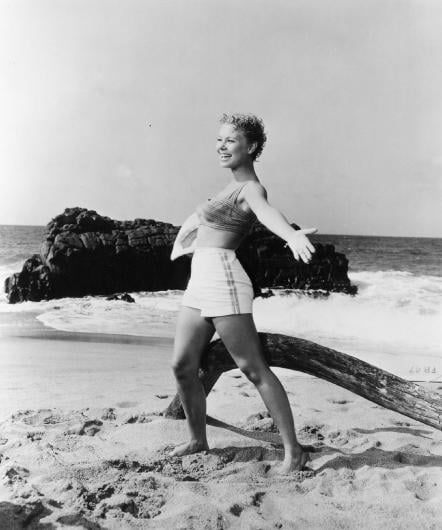 When Bali Hai calls, Mitzi Gaynor answers.
The actress who famously portrayed effervescent U.S. Navy nurse, Ensign Nellie Forbush in the classic film version of Rodgers & Hammerstein's South Pacific will return to Kauai in October to help celebrate the movie musical's 51st anninversary.
It will be Gaynor's first visit to the Garden Island since the film was made there in 1957 and 1958.
South Pacific is a great film to celebrate—No. 5 on our list of the Eight Best Movies Filmed in Hawaii.
The bulk of South Pacific's outdoor scenes were filmed on Kauai's picturesque north shore. Fans of the film still make pilgrimages there to visit virtually unchanged locations made famous in the film such as Lumahai Beach (where Gaynor romped while singing "I'm In Love With A Wonderful Guy"), Hanalei Bay (the backdrop for Juanita Hill as Bloody Mary's take on "Bali Hai") and Mount Makana (which stood in for the mysterious island of Bali Hai).
Gaynor will appear at two events connected with the anniversary celebration.
• She'll share tales of the South Pacific production and her long career at An Afternoon with Mitzi Gaynor on Oct. 4. The event, at the Kauai Marriott Resort & Beach Club in Lihue, is open to the public. The $20 admission fee benefits Kauai Museum. For tickets, call the Kauai Visitor Bureau at (808) 245- 3971.
• Gaynor will also help celebrate the much-anticipated grand opening weekend of the luxe St. Regis Princeville Resort, at a guests-only event. The peninsula the St. Regis is perched on, overlooking Hanalei Bay, was where French plantation owner Emile de Becque (played by the late, great and very coolly-named Italian actor Rossano Brazzi) charmed Nellie with the ballad "Some Enchanted Evening." Gaynor will take part in events attended by other actors from the film. The Arts, Culture & Style weekend is the first of the resort's Quintessential Celebrations, a series of weekend events through October and November celebrating the St. Regis Princeville's grand opening. Other Quintessential Celebrations weekends are Sport & Adventure (Oct. 22-25), Spa & Wellness (Nov. 5-8) and Epicurean (Nov. 19-22). Events are open to guests who purchase special series room packages. For more information, click here.
Can't make it to either event, or just want to fall in love with Mitzi as Nellie all over again? Click the screen below for a clip from South Pacific featuring a radiant Gaynor singing "I'm In Love With A Wonderful Guy" … on beautiful Lumahai Beach.
We also wish Ms. Gaynor a happy 78th birthday today–Sept. 4!