Bar Leather Apron aims to be a destination for world class cocktails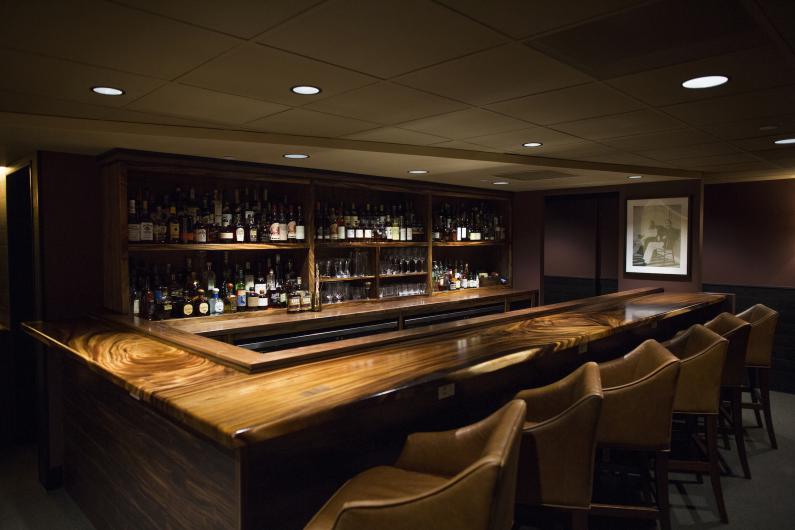 There is something magical about a great, handcrafted cocktail. When done properly the alchemy of premium alcohol and ingredients make an intoxicating concoction. Combine this with an enchanting atmosphere of muted-lighting, exotic wood furniture and intimate seating for only 25-30 people, and you have the magic of Bar Leather Apron.
The magicians behind this new craft cocktail destination in downtown Honolulu, which officially opened yesterday, is Justin Park and Tom Park. Despite having the same last name they are not related, but both bring the experiences of their travels around the world and a mutual desire to make Bar Leather Apron a unique and excellent experience.
"Our whole thing was to create a culmination of all our travels … we took what we thought was the best of each place and we're trying to box it up in one place," says Justin Park, who is the former bar manager of the popular bar and café in Chinatown, The Manifest. "There's a lot of European style cocktail influences, a lot of classic-style cocktail influences, a lot of Japanese-service oriented aspects that we're doing, so [Bar Leather Apron] is a worldly bar."
In 2012, Justin was awarded the honor of creating the "Best Mai Tai" and two years later won United States Bartenders Guild's Shake It Up. "My whole thing isn't to list the most obscure liqueurs, bourbons, whiskies and scotches from around the world … That's not the point of what we're doing. Food will be served with our cocktails and that is kind of a Japanese thing. So throughout your drinking experience there will be little food things."
In addition to the appetizers that will be served with cocktails like the "BLA Old Fashioned" and "The Brooklyn," the word "bar" in the name is an "homage" to Japan says Tom, who is also the CEO and founder of Leather Soul, a high-end, men's shoe boutique located in downtown Honolulu and the Royal Hawaiian Shopping Center. According to Tom, the small cocktails bars in the Land of the Rising Sun have the word "bar" in front of the rest of the name. While the Park duo draws inspiration from Japan, Bar Leather Apron is designed to be something that Hawaii can be proud of.
"One of our goals is to do something really special for Hawaii," Tom says. "With Leather Soul I really wanted to have a world-class men's shoe store in Hawaii, and that's something that motivates me in everything I do. With Bar Leather Apron, I really want to have a world-class experience, world-class cocktail bar in Hawaii, where everybody in the world is like, 'Wow, one of the best bars in the world is in Hawaii.'