Be here now! Sort of. Hawaii panoramas added to Google Street View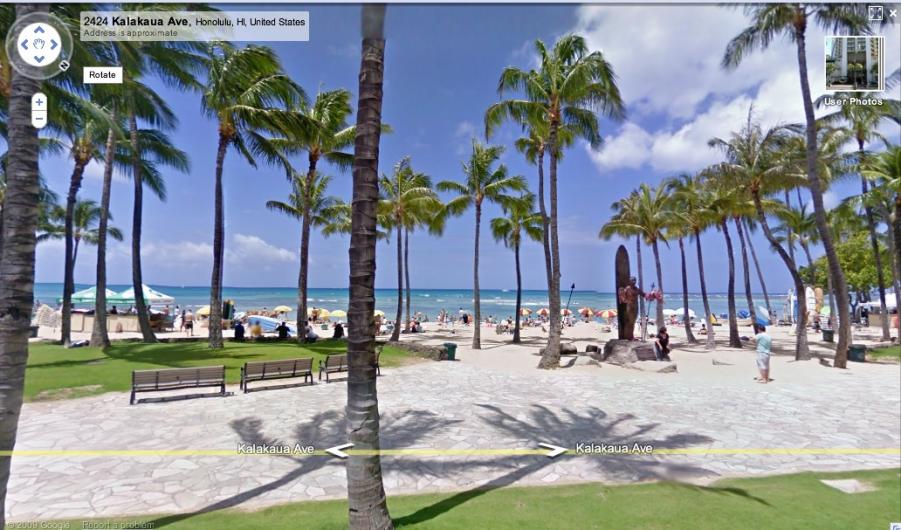 Google has taken to the streets of Hawaii to put you in Hawaii even when you can't be here.
The ever-expanding lead Internet search engine recently included Hawaii in its Street View feature. An extension of Google's popular Google Maps navigation service, Street View offers up 360-degree, ground-level panoramas of cities, neighborhoods, and other notable landmarks across America and around the world.
With the addition of Hawaii, Google Street View panoramas are now available from all 50 U.S. states.
So far, only Oahu and select Maui streets are part of Google Street Views Hawaii. You'll find panorama views from almost every street, highway, freeway and cul de sac on Oahu. But Maui views are so far limited to major sections of south, central and west Maui.
Lahaina, Kapalua, Wailea, Kihei and Kahului? Got it. Makawao, Paia, Upcountry Maui, the Mount Haleakala Highway and famously scenic drive to Hana? Not yet.
Also not covered by Google Street View Hawaii yet? Any street panoramas from Kauai, the Big Island of Hawaii, Molokai or Lanai. For now, Google is mum on when street-level views from the other Hawaiian Islands will be included in the service.
The Street View navigation service is the second of two major Hawaii-related innovations from Google this year. In August, Google added a search engine interface to accommodate the Hawaiian language, designed by a team of Hawaii-based translators.
To use Google's Street View, go to Google Maps (www.maps.google.com) and enter an address or general destination (i.e. Waimea Bay) in the search box. When the Google overhead map comes up, look for the orange "pegman" icon on the left-hand side of the map, atop the "zoom in/zoom out" bar. (If the pegman is gray, it means there are no Street View panoramas on the map.)
Then just drag and drop the pegman onto a desired location on the map and voila! You'll see a panorama shot of the street location, and be able to "drive" either direction on the street with clicks of your mouse.
Check out how far of a walk your Waikiki hotel is from the beach by walking the distance virtually. Take a virtual drive along Oahu's scenic windward coast to the North Shore surf spots. See what the drive straight into Diamond Head Crater looks like.
For a quick Hawaii fix, there's already a collection of popular Oahu panoramas, conveniently arranged for immediate viewing in Google's Street View Gallery.
Hawaii Street View photo albums in the gallery include "Hawaii Beaches" and "Obama Hometown Hotspots." The Obama Hotspots collection displays several locales from the President's formative years on Oahu, such as his high school—Honolulu's Punahou Schools—and his first job—a Baskin Robbins just down the street from Punahou.
The only downside of Google Street View Hawaii we could find? Street View, naturally, ends where the street does. So your trip into North Shore Oahu's lush Waimea Valley, for example, ends at the visitor center parking lot.
Our solution? Come and visit us on Oahu for real!