Beer. It's what's for dinner at Koele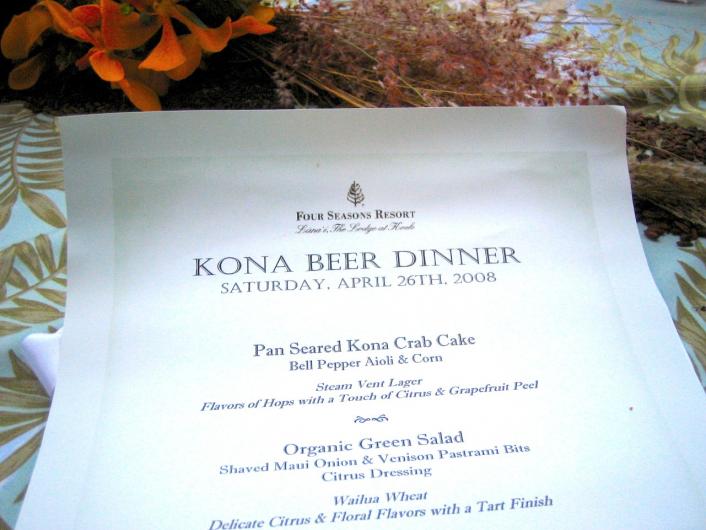 Many of you asked. Some of you guessed after my weekend post. Now, I can finally answer.
Yes, after some none-too-subtle campaigning on my part, I attended the Four Seasons Lodge at Koele Kona beer dinner on Saturday.
It was departing executive sous chef Thomas Bellec's grand finale at the Lodge—a five-course dinner menu, paired with craft beers from Kona Brewing Co. He'd done a couple of wine dinners, and even a scotch dinner in the past—all in the Lodge's country manor-reminiscent interiors.
But the beer dinner seemed apt for a more casual setting. So taking advantage of good upcountry weather, dinner was served under the stars on the Lodge's croquet court.
The Four Seasons pulled out all stops. Guests were seated at elegantly-appointed picnic tables equipped with padded seats. Tiki torches lit the area. Heat lamps offset the chilly evening tradewinds. Pashminas were handed out to whoever wanted one. A guitarist strummed gentle Hawaiian tunes.
How to break the ice? How about a trio of cocktails, all beer-infused—a mai tai with a float of Amstel Light (so-so), a bloody mary with a kicky bite of Corona and lime (good), and a fresh-squeezed lemonade mixed with Hangar 1 vodka, kafir lime and a float of Corona (best).
After a couple of each over a half-hour, conversation flowed.
I sat across from Mark and Barbara Zigmond, owners of Lanai City's Pele's Other Garden restaurant—and right next to Tom Roelens and his wife Sara. Roelens was ending his third week as general manager of both Four Seasons resorts on the island—the Lodge at Koele and the Manele Bay Resort.
He was still giddy about getting the job, regaling us with tales of his Belgian childhood, where quaffing beer as a minor was legal, and his father occasionally brewed up a batch of the stuff in the family living room.
"We kids looked forward to days we could come home from school for lunch," said Roelens, after one story.
Responded Zigmond, to much laughter, "Yes, but did you learn anything after lunch?"
Chef Bellec's aim was to match each course with the right beer. Kona Brewing's light, citrusy Wailua Wheat beer, for instance, complemented the dressing on the green salad with Lanai venison pastrami.
Roelens enjoyed the subtle spice, fruit and smooth finish of Kona Brewing's wonderful 3K Belgian Triple ale so much, that he ordered a second round for our table before we could finish our beer-glazed brie and roasted pear on egg brioche.

Another high point? The brewer's Pipeline Porter—rich with roasted coffee aroma and a smoky dark chocolate finish—paired with one of the richest entrées I've ever encountered. It was, first, an applewood-smoked bacon-wrapped pork tenderloin on, second, a bed of kalua pulled pork, plus parsnip puree and Brussels sprouts fricassee, all in beer infused demi glace. I'm still surprised I survived it.
Four Seasons Resort Lanai public relations director Brad Packer said it was his dream to host a similar dinner at the Lodge … with tequila.
I'll bring the limes and salt, dude.
And HawaiiMagazine.com readers will, again, know about it before it happens. Cheers!