The 5 Best Beaches on Maui in 2023
With the Valley Isle's golden shores and aquamarine bays, deciding where to spend a day at the beach can be difficult. To help you choose, here are the 5 Maui beaches that HAWAIʻI Magazine readers love the most.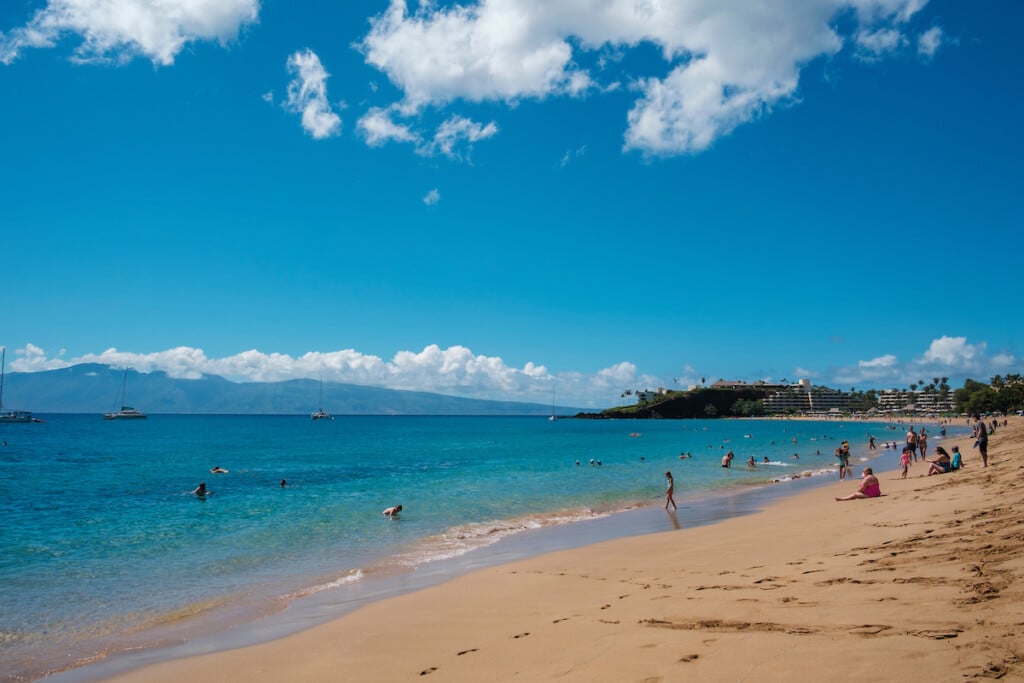 Travelers are enthralled by Maui for many reasons and the splendor of the island's beaches is right at the top of the list. With about 120 miles of coastline, the Valley Isle boasts over 30 miles of dazzling beaches, from powdery white-sand to jet-black and even red shorelines. But beyond the postcard-worthy appearance, the conditions at some of these spots are perfect for snorkeling and a variety of water sports. And there's no better place to play in the sand and sunbathe than here, on some of the prettiest beaches in the world. Here are the best beaches on Maui, as voted by HAWAIʻI Magazine readers.
1. Kāʻanapali Beach
Kāʻanapali Beach on Maui's west side tops the list once again. Here, the dreamy shoreline stretches for 3 miles, with soft white sand leading to crystal-clear water. Entering the ocean here is a must, whether it's to cool off from the tropical sun or to explore the colorful coral reef surrounding Puʻu Kekaʻa, aka Black Rock. Kāʻanapali Beach's clear waters make for some of the best snorkeling on the island. After swimming with the island's marine life and playing in the waves, you can rest and refuel at one of the nearby resorts. Grab lunch or sip a refreshing beverage at a poolside bar. Just be sure to head back to the beach for sunset; every evening as the sun sets on the Pacific, a diver runs along the cliffs of Puʻu Kekaʻa, lighting torches leading up to a thrilling dive from the cliff.
2. Mākena, aka Big Beach
On Maui's southern shore, Mākena Beach State Park is a favorite spot among residents and visitors. Nicknamed "Big Beach," Mākena is one of the largest beaches on the island devoid of resorts, hotels or any development. The beach boasts emerald waters, golden sands and smaller crowds than the Kāʻanapali beaches. But, while Mākena is gorgeous, ocean conditions can be dangerous. When strong swells hit the island's south shore, Big Beach is notorious for its heavy shore break. Beachgoers should pay attention to warning signs and listen to lifeguards.
(Visitors to Mākena State Park pay for parking at the parking lot kiosks. For more information, visit dlnr.hawaii.gov/dsp/parks/maui/makena-state-park.)
3. Wailea Beach
Wailea Beach is a magnificent sandy strip with calm waters, fun snorkeling and great views of Molokini, Kahoʻolawe, and Lānaʻi. Nestled between the ultra-luxe Four Seasons Resort Maui at Wailea and the Grand Wailea, a Waldorf Astoria Resort, the beach attracts hotel guests and local families alike.
4. Nāpili Bay
For those searching for world-class beaches without crowds, chances are, Nāpili Bay is just what you're looking for. Located on the island's west side, the bay is a great alternative to popular Kāʻanapali Beach. Here, you'll still find silky-soft sand and exquisite snorkeling. The bay is protected by an outer coral reef resulting in calm ocean conditions and a beautiful underwater world just waiting to be explored.
5. Kapalua Bay
With its crescent shoreline, warm turquoise waters and breezy palm trees, you can easily let the day slip away at Kapalua Bay. Also located on the island's west side, Kapalua Bay is rich with marine life thanks to its coral reef. It's a terrific spot for snorkeling and when you're hungry for lunch, there's a beach shack with snacks and drinks just steps away from the sand.
See all of the winners of our 2023 Readers' Choice Awards in our latest issue, which you can buy here. Better yet, subscribe and get HAWAIʻI Magazine delivered to right to your mailbox.