"Best of Hawaii": Saturday Farmers' Market at KCC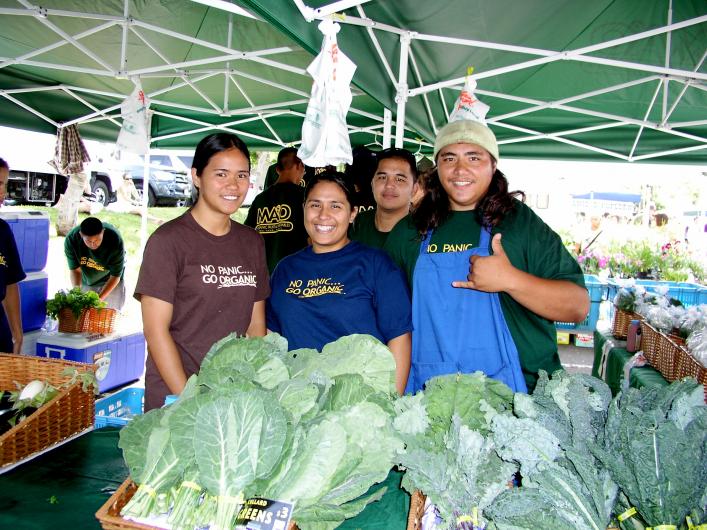 Among the HAWAII Magazine editorial staff picks for our 2008 "Best of Hawaii" cover feature is our "best reason to get up before dawn on a Saturday."
We like sleeping in on weekends as much as anyone else. But we'll rise before the roosters crow for the Hawaii Farm Bureau Federation's weekly Saturday Farmers' Market at Kapiolani Community College.
Here's what we wrote:
Want to find Hawaii's top farmers and ranchers selling their best products in one place? Your best bet is the Saturday Farmers' Market at Kapiolani Community College, just a short distance from Waikiki. Fresh-off-the-farm Hawaii vegetables, herbs and fruits. Orchid plants in full bloom. Just-laid free-range chicken eggs. Food booths offering all manner of tasty eats—North Shore-raised beef hamburgers, fried green tomatoes and polenta, grilled kimchee sausages, fresh ginger ale lemonade, sushi. You just gotta go early. Lines form for the best stuff long before the blast of an air horn officially kicks off sales at 7:30 a.m. Warning: It's all over by 11 a.m.
You'll find Kapiolani Community College on the north slope of Diamond Head, 4303 Diamond Head Road. Look for the crowds and full parking lot. Call (808) 848-2074, or click here for more information.
For the rest of our 91 reader- and staff-selected "Best of Hawaii" selections, pick up the September/October 2008 issue of HAWAII Magazine, available at most national bookstores and newsstands now. It's also available by print subscription and in a digital format downloadable on your computer.
Should my current craving for North Shore Farms heirloom tomato, mozzarella and macadamia basil pesto pizza fail to subside by Saturday, I'll see you bright and early.
For now, click the screen below for a slideshow of a recent trip we made to the market.