Big game fishing's "granddaddy" event in Kailua-Kona this week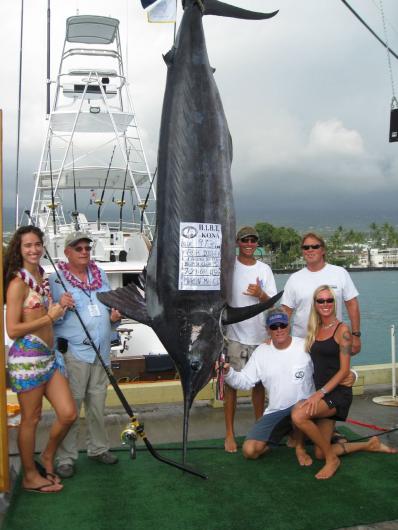 Big fish, no?
The Hawaiian International Billfish Tournament is on this week in the waters off Kailua-Kona on Hawaii's Big Island.
It's the 49th annual running of the tournament, which bills itself as "the granddaddy of all big game fishing tournaments." More than two dozen fishing teams from around the world head out into the Kona Coast's deep blue each morning in search of Pacific blue marlin.
The waters off the coast not only have an abundance of marlin, but an abundance of marlin in record sizes.
If any afternoon this week you're wandering Kailua-Kona town's Alii Drive, right along the ocean, make sure to hang out at Kailua Pier as the boats return to weigh in their catch.
This Pacific blue marlin, caught Tuesday by California's Laguna Niguel Billfish Club, was the second-largest in the tournament's history. We're talking 973 lbs. of fish here, reeled in after a 2 hour and 20 minute fight.
Last year's winning billfish weighed in at 689 lbs. so the team has a good chance of taking the tourney's Governor's Trophy on Sunday. It wouldn't be the team's first win at the tournament either.
Laguna Niguel Billfish Club also caught the biggest marlin in Hawaiian International Billfish history—a 1,062.5 lb. monster reeled in back in 1986.
Fishing ends Friday afternoon. Awards will be handed out on Sunday.
Click here for more information and history about the tournament, daily standings and a schedule of related events.