Big Island artist's bonsai paintings picked by Postal Service for "Forever" stamp series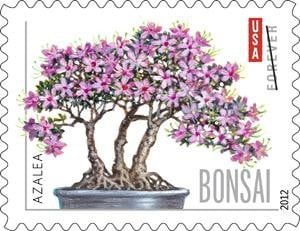 The U.S. Postal Service has picked bonsai tree paintings by Big Island wildlife artist John D. Dawson to appear on a five-stamp series.

The stamps will be reportedly printed with a special first-class Forever imprint, through which they will always be accepted by the Postal Service as full value for a first-class letter rate. The release date has yet to announced.
The series depicts a Sierra juniper (pictured, below), a trident maple, a black pine, an azalea plant (pictured, right) and a banyan — each 15 inches to 20 inches tall, and shaped by the Japanese art of bonsai, through which a low-sided pot or tray (bon) is used to contain the cultivated planting (sai).

Through various gardening and grafting techniques, bonsai artists sculpt plantings to eventually appear to be miniature mature trees. Bonsai does not use dwarf trees.
Dawson's artwork has also appeared on one dozen Nature of America stamp panes. Since 1999, the USPS has each year released a new pane in the Nature of America stamp series, with a goal of educating people about the nation's diverse plant and wildlife communities. Over the years, stamps in the series included Dawson paintings of the Sonoran Desert, Pacific Coast Rainforest, Pacific Coral Reefs, Southern Florida Wetlands and the Arctic Tundra.
A year ago, Dawson's painting of native plants and wildlife in Hawaii's rainforests was featured on the Nature of America stamp pane. The first-day issue was held at Hawaii Volcanoes National Park. Dawson's painting was partially inspired by the native rainforests surrounding the park's Thurston Lava Tube. Additional design inspiration for the painting came from the Olaa Rainforest Reserve near Hilo—where Dawson lives.
For additional information about Dawson's artwork, and to take a look at more of his stamps, click here. To visit the USPS store, click here.