Big Island Film Fest to honor "Mad Men" actor, "Saturday Night Live" cast member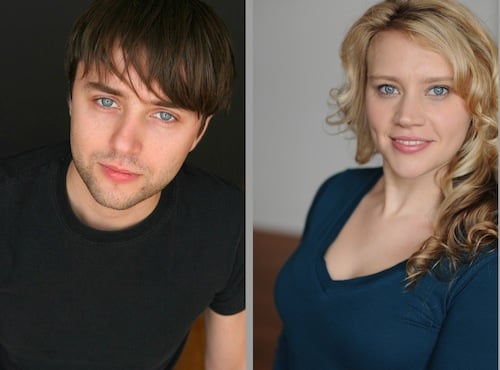 This year's Big Island Film Festival celebrity honorees are Vincent Kartheiser, "Pete Campbell" on the award-winning drama Mad Men, and Kate McKinnon, a featured player on the legendary Saturday Night Live, known for her impressions of Ann Romney, Ellen DeGeneres and Penelope Cruz. (Both honorees pictured above.)
Now in its eighth year, the five-day fest is set to get under way on Thursday on the Big Island's Kohala Coast. The screenings lineup includes 54 films, including 10 from Hawai'i.
Known as the "talk story" film festival, organizers describe the event as a "celebration of independent narrative films and filmmaking." Among the highlights: free family films; nightly double features for grown-ups, with gourmet food and no-host bar; and "meet-the-stars" celebrity social events. The fest is staged at The Fairmont Orchid, Hawaii and The Shops at Mauna Lani.
Here's the lineup for celebrity-related events.
• Meet the Stars: Aloha Hollywood — Friday (May 24) 5 p.m.-6:30 p.m., reception in the Kilohana Room. VIP admission ($75) includes The Fairmont Orchid's "Legacy Menu" pupus, Kenwood wines and other beverages. The "Paparazzi Pass" ($15) permits taking photos as celebrities and filmmakers arrive on the red carpet, then mingling with the stars, and enjoying a no-host bar. Partygoers are encouraged to dress up in aloha wear for the "Aloha glam" event.
• Reception & Salute to Kate McKinnon — Saturday, 4:30 p.m.-6:30 p.m., After the reception, Brian Kohne will talk story with Kate in a one-of-a-kind interview and Q&A. $35, advance tickets required. McKinnon joined the cast of Saturday Night Live last April. She had also performed at the Upright Citizens' Brigade Theatre and is known for three one-woman shows she wrote and performed at the UCB: "Disenchanted," "Best Actress" and "Kate McKinnon On Ice."
• Reception & Salute to Vincent Kartheiser — Sunday, 4:30 p.m.-6:30 p.m. The reception will feature a "Mad Men" theme. A video career retrospective and interview with the actor to follow the reception. $35, advance tickets required. Before his TV role on Mat Weiner's Mad Men on AMC, Kartheiser starred in Joss Whedon's Angel, and has guest-starred in other series including ER and The Cleveland Show. On the big screen, Kartheiser appeared in Untamed Heart (1993) with Marissa Tomei, Little Big League (1994), Ironwill (1994) and Another Day in Paradise (1998) with James Woods and Melanie Griffith. Most recently he appeared in the sci-fi thriller In Time (2011) with Justin Timberlake
• Golden Honu Awards Brunch — Monday, 10 a.m. to 12 p.m. $50 per person, reservations required. Awards presentations and announcement of the Audience Choice films that will be screened at "Best of the Fest" on Monday evening.
For a complete listing of Big Island Film Festival events and screenings, click here or call (808) 883-0394.