Big Island's 19th annual Waimea cherry blossom fest celebrates Hawaii-Japan ties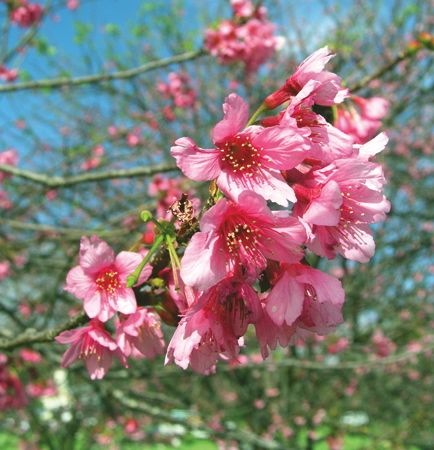 The Big Island's annual Waimea Cherry Blossom Heritage Festival marks the blooming of the area's historic cherry trees with a Japanese tradition called hanami, which translates as "cherry blossom viewing party."
After a seasonal winter chill in the upcountry area east of the Kohala Coast, cherry trees typically bloom in February. The 19th annual Waimea Cherry Blossom Heritage Festival, slated for 9 a.m. to 3 p.m. on Sat., Feb. 4 at various sites in the Waimea area.
Festivities will include multi-cultural performing arts, such as taiko drumming (pictured, below); hands-on demonstrations, such as a Japanese tea ceremony; exhibits, such as a display featuring the stitched artwork of Mauna Kea Quilters Guild; and booths featuring more than 100 crafters and a variety of food selections. In addition, chefs representing the island's Waikoloa area restaurants will conduct cooking demonstrations and serve up samples, from 9:15 a.m. to 1:45 p.m. at Kamuela Hongwanji Mission in Waimea.
This year's community festival, organized by the island's Parks and Recreation Department, is part of the nationwide 100-year anniversary that marks the 1912 planting of cherry trees along the Potomac River in Washington D.C. The Japan-U.S. Cherry Blossom Centennial celebration features the planting of cherry trees across the country as a continued symbol of friendship between the United States and Japan.
Using seeds presented from the Embassy of Japan that are especially suited to Hawaii's climate, seedlings were cultivated last fall for planting at this weekend's festival. One seedling, Cerasus jamasakura Cv. Sendaiya, will be ceremoniously planted 10:30 a.m. on Saturday in Waimea's Church Row Park by Hawaii County Mayor Billy Kenoi; Yoshihiko Kamo, Consul General of Japan in Honolulu; and Tetsuo Koyama, director of the Kochi Prefectural Makino Botanical Garden.
For additional information about the festival, click here.