Big Island's 34th Ironman Triathlon World Championship slated for this weekend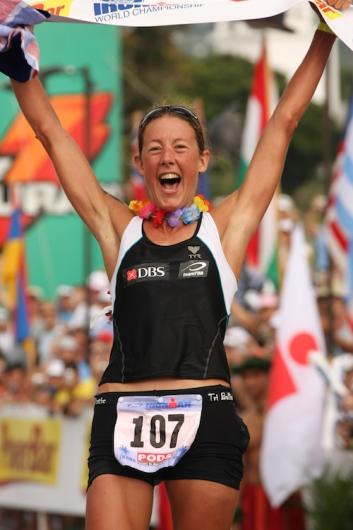 At sunrise on Sat., Oct. 13, nearly 1,930 triathletes from 64 countries will be finding their way to the open-ocean starting line of the Big Island's Ironman Triathlon World Championship.
Now in its 34th year, the 140.6-mile race starts at 6:30 a.m. and 6:35 a.m. for men and women, respectively, registered as pro and elite athletes. The rest of the field will start the first leg of the race — a 2.4 mile swim that begins and ends at Kailua Pier — at 7 a.m. The second leg is a 112-mile bike ride alongside dark-and-rugged lava fields lining the Kohala Coast. After that, the athletes will run a full marathon (26.2 miles) in the Kona-Kailua area to the race finish line on Alii Drive.
Last year's top finisher, Craig Alexander (Australia) finished the swim in 51:56 minutes; bike course, 4:24:05; and the marathon run, 2:44:03. Alexander's finish line time: 8 hours 3 minutes and 56 seconds — about six minutes ahead of the second-place finisher. Chrissie Wellington (pictured, right) (Great Britain) finished first among women, crossing the finish line at 8:55:08.
Several hours after Saturday's top finishers are greeted by cheering spectators, a steady stream of athletes will follow. The race ends at midnight. About 820 registered athletes are from the United States, with 143 reportedly from California and 54 from Hawaii.
According to the event's organizers, the inaugural "Hawaiian IRON MAN Triathlon" was conceptualized in 1977 as a way to combine three of the toughest endurance races in Hawaii: the 2.4-mile Waikiki Roughwater Swim, 112 miles of the Around-Oahu Bike Race, and the 26.2-mile Honolulu Marathon. On Feb. 18, 1978, 15 racers came to Waikiki to take on the first "IRON MAN" challenge. In 1981, the race moved from Waikiki to Kona.
Among the competitors in this year's race are Ironman "icons" Julie Moss and Kathleen McCartney Hearst. An ABC's "Wide World of Sports" television broadcast focused on the women during the 1982 race.


During the third leg of the race, Moss, then a college student from San Diego, had a sizeable lead until the final five miles. Then McCartney, also from San Diego, began to cut into Moss' lead. Moss pushed on, sometimes appearing like a "punch-drunk fighter" as she moved toward the finish line. But about 20 yards in front of the finish line her legs gave out and she fell to the ground. Unable to get up and dehydrated, Moss crawled. As race officials and spectators gathered around her, visibly concerned for her well being and amazed by her courage, McCartney passed her to win. Even so, Moss won the hearts of those present and millions who later saw her effort on television.
Moss and McCartney Hearst last took part in the Ironman Triathlon World Championship race in 2003, when they raced together for event's 25th anniversary.
For more information about Ironman Triathlon World Championship, click here.