Big Island's "Afternoon at Hulihee Palace" salutes Prince Kuhio, Queen Kaahumanu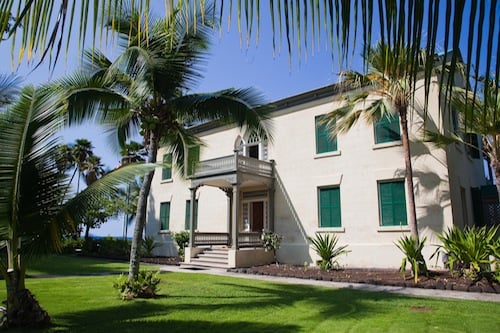 Hulihee Palace — situated near the center of the Big Island's historic Kailua-Kona area and known for its Hawaiian and Victorian artifacts — is hosting monthly heritage-focused days called An Afternoon at Hulihee Palace.
This month's event, set for 4 p.m. this Sunday (March 17) on the palace grounds, remembers Prince Jonah Kuhio Kalanianaole (1872-1922), who became the only person born into royalty to ever serve in the U.S. Congress, and Queen Kaahumanu (1777-1832), who is remembered as King Kamehameha the Great's favorite wife.
Kuhio was born on Kauai and raised by his aunt and uncle, Queen Kapiolani and King Kalakaua, to become successor to the royal throne. He was 22 years old when the monarchy was overthrown. After Hawaii became a U.S. territory, the Republican Party persuaded Kuhio to enter politics
Kuhio was named Hawaii's second delegate to the U.S. Congress in 1902 and served the post 10 times. Honored today as the father of Hawaii Volcanoes National Park, Kuhio secured an area of the Big Island's Kilauea Volcano in 1916 for public enjoyment. As a territorial delegate, he also led the effort to set aside 200,000 acres of land for Hawaiian homesteaders and introduced the first-ever bill for Hawaii's statehood.
Born on Maui, Queen Kaahumanu was about 20 years younger than her husband, King Kamehameha I. Known as intelligent and politically shrewd, Kamehameha granted Kaahumanu the title of kuhina nui (queen regent) upon his death in 1819. Tired of the Hawaiian laws of kapu that forbade women from certain activities, she convinced the throne's successor, Liholiho, to overturn the kapu system.
Afternoon at Hulihee is part of the palace's series of free monthly events that honor Hawaii's past monarchs and historical figures. Donations are appreciated. If you go, bring a beach mat or chair as seating won't be provided.
All of the 2013 Afternoon at Hulihee events will hula by Na Pua Ui O Hawaii Hula Halau and vocals by the Merrie Monarchs. Sunday's hourlong event will also feature a Hulihee Palace Band performance.
Hulihee Palace consists of six large rooms, two oceanfront lanai and lushly green grounds. Among its royal treasures: koa wood furniture, ornaments, portraits, tapa, feather work, Hawaiian quilts and other artifacts from Hawaii's royal past.
Many of the artifacts are tied to the era of King David Kalakaua, who ascended to the crown in 1874 and reigned until his death in 1891. Two years later, the monarchy was overthrown and a provisional government took shape. Hawaii later became a U.S. republic, territory, and finally, in 1959, the 50th state in the union.
The Daughters of Hawaii serves as the palace caretaker. The organization was founded in 1903 and opens membership to any woman who is directly descended from a person who lived in Hawaii prior to 1880. Helping the Daughters in its efforts since 1986 are the Calabash Cousins; membership is available to all.
Hulihee Palace is open for self-guided tours from 9 a.m. to 4 p.m. on Tuesdays through Saturdays. Admission, which includes a self-guided tour brochure, is $6 for adults, $4 for seniors, and $1 for children under age 18. Volunteer docents are sometimes available to give guided tours. For additional information, click here.