Big Island's mango fest celebrates delicious, diverse crop during peak of harvest season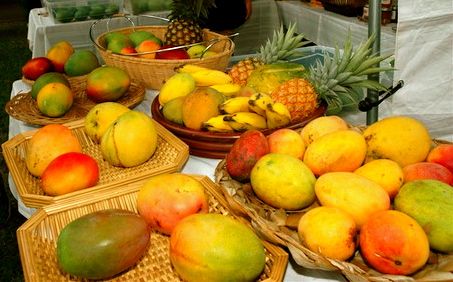 Mango season is under way in Hawaii, and this summer's crop is bountiful. Reason enough to celebrate? We think so. If you agree — and happen to be on the Big Island this weekend — head on over to the Kona Coast's Outrigger Keauhou Beach Resort for the fourth annual Mango Festival.
The free fest's full weekend of "juicy jive," 10 a.m. to 5 p.m. tomorrow and Sunday at the resort in Kailua-Kona, will celebrate Hawaii's delicious and diverse mango varieties during the peak of the harvest season.
Among the highlights: a recipe contest, culinary demos, music and dance performances, arts-and-crafts activities, and, of course, mango-themed eats and drinks of all sorts.
The recipe contest — amateur chefs only — and culinary demonstration are slated for 1 p.m. tomorrow. Following the contest, chef Hubert des Marais from The Fairmont Orchid, Hawaii will share his culinary tips on how to feature mangoes in delish dishes.
Also, on Saturday, West Hawaii master gardeners will be on hand to offer free plant advice, and Hawaii Tropical Fruit Growers will provide information and taste samples of many mango varieties. Horticulture enthusiasts will also be able to consult with experts about grafting and growing mangoes.
On Sunday, there will be several music and performing arts presentations, including hula and belly dancing, on the grounds of the resort's Royal Garden.For more information about the mango fest, presented by the nonprofit Sanctuary of Mana Kea Gardens, click here.