Big Island's Volcano Art Center offers revealing look at Hawaii's hula heritage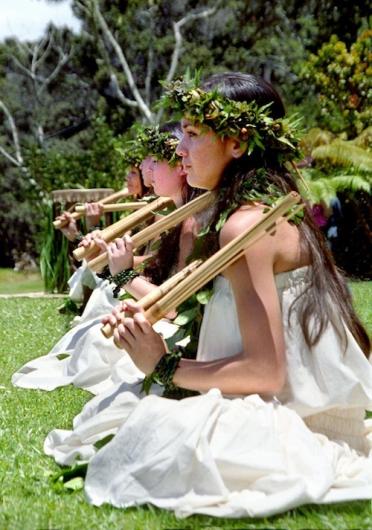 For more than three decades, Volcano Art Center has coordinated Hula Kahiko (ancient hula) presentations for the public at the sacred pa hula (hula platform) near Kilauea Visitor Center in Hawaii Volcanoes National Park.
This weekend, the center will present an addition to this year's Na Mea Hawaii Hula Kahiko lineup that aims to provide spectators with a short education about the cultural significance tied to Hula Kahiko. A Hula Kahiko Informance, presented by kumu hula Leilehua Yuen and her husband, musician Manu Josiah (pictured, below), is slated for 10:30 a.m. on Sat., June 30. If you go, bring a mat and sun/rain gear. The 50-minute event is free, but you will have to pay the park entry fee.
During the informance, the couple will discuss behind-the-scenes preparations for the Hula Kahiko such as the gathering of lei foliage and the art of weaving the lei; traditions tied to the dancer's costume; and meanings linked to dance steps. Yuen will present a hula at the end of the event.

Various other cultural demonstrations will be available to visitors between 9:30 a.m. and 1:30 p.m. on Saturday on the front porch of the Volcano Art Center Gallery.
The center is on Crater Rim Drive, not far from a visitor outlook area at the edge of Kilauea volcano's summit where, for the last four years, Halemaumau crater has been emitting a billowing plume of gas and ash. At nighttime, the crater is marked by a brilliant red glow cast by the crater's below-surface lava lake.
The next traditional Hula Kahiko is set for 10:30 on Sat., July 7 at the center. Click here to see the full 2012 Na Mea Hawaii Hula Kahiko schedule.
For more information about events at Volcanoes National Park, click here.