Big waves ultimately not big enough for Eddie Aikau contest this week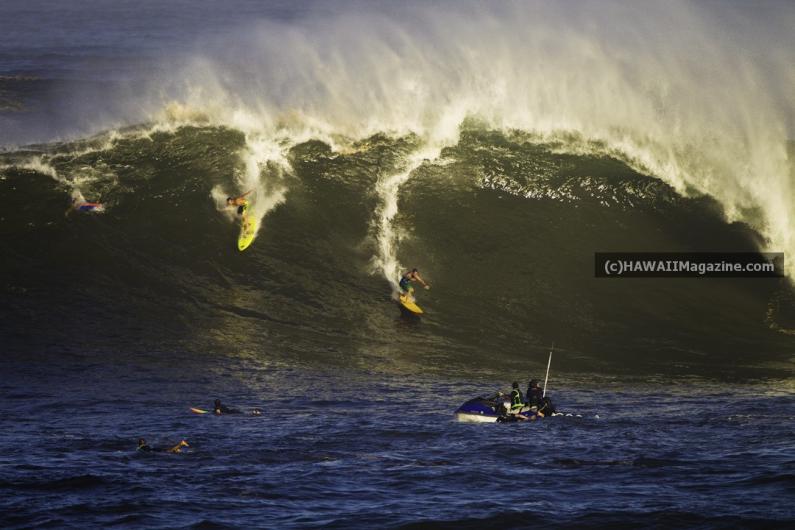 Despite big-enough waves at Waimea Bay on Thursday, the contest director for the Quiksilver in Memory of Eddie Aikau ultimately decided conditions weren't good enough for "The Eddie."
George Downing called a no-go for the big-wave competition on Thursday, citing the inconsistency of the day's swell. The big stuff—20- to 25-foot waves—weren't coming in consistently enough for the contest's two rounds of competition, he said. (Wave heights need to consistently reach at least 20 feet in order to hold the contest.)
"What we see in conditions like this is just one or two true 'Eddie'-size waves in the period of a heat," Downing said. "With seven surfers in the water per heat, that is not the kind of playing field we need for quality, fair competition."
The postponement was a disappointment for the more than 15,000 spectators who fought traffic and searched for parking to watch the event, commonly called "The Eddie." Because of its strict standards for wave heights, the contest has only been held eight times in the past 25 years—the last time being December 2009. Still, the crowd at Waimea Bay yesterday did get to see pro surfers tackle the massive waves at the bay anyway, just for fun.
The holding period of "The Eddie" runs through Feb. 28, so there's still plenty of time for the contest to happen.
"It's very easy to get caught up in the excitement when those huge waves come through, and after all of the efforts of the crew and the spectators to get ready for this day," Downing said. "But what keeps this event the greatest big wave event in the world is never relaxing those standards. Eddie never did."
Beyond this week, forecasters point to a favorable jet steam flow that will likely create extra-large surf through the end of the month and into February. Organizers are hopeful that the swells will be large enough and consistent enough on at least one full day to hold The Eddie.
The Quiksilver In Memory of Eddie Aikau is the world's longest running and most prestigious big-wave invitational and the only one sanctioned by the Association of Surfing Professionals (ASP), the governing body of professional surfing.
The contest pays tribute to legendary Hawaiian surfer and North Shore lifeguard Eddie Aikau. The invitation-only professional contest is held over a single day—this season, between Dec. 1, 2010 and Feb. 28, 2011—when waves exceed the minimum 20-foot threshold. The purse this year is $98,000.
• Click this link for HawaiiMagazine.com photos from the 2009 Quiksilver in Memory of Eddie Aikau contest.
• For updates on this season's contest, visit the Quiksilver in Memory of Eddie Aikau official website.