Bike Hawaii's tour of Waikiki takes you on a multi-sport adventure
You'll be hiking, biking and sailing your way around Oahu's natural splendor.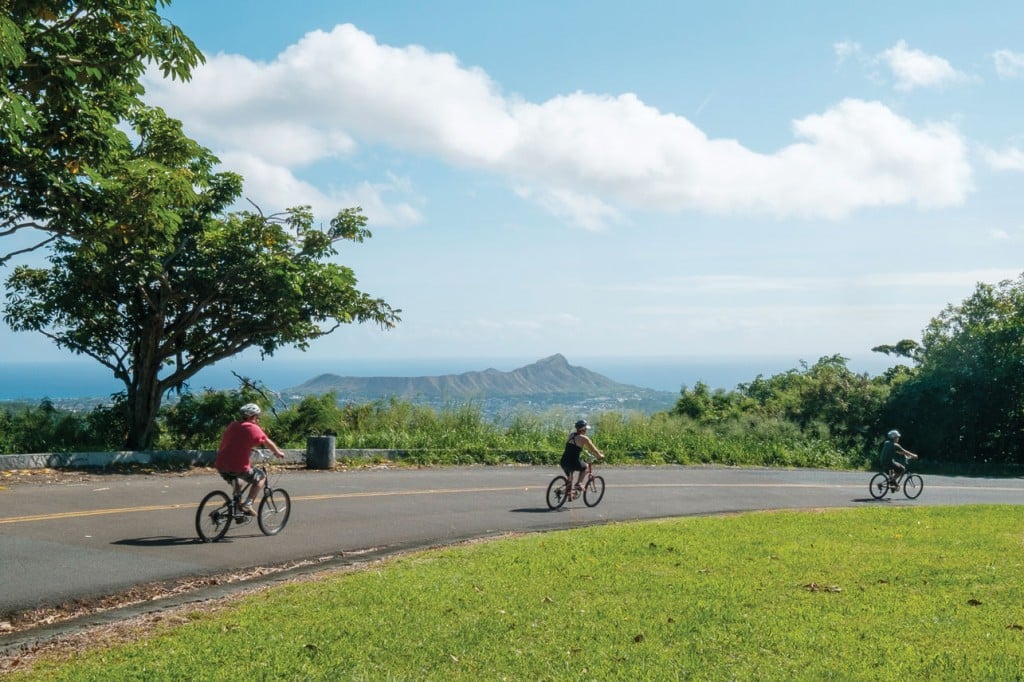 Ahupuaa, traditional land divisions stretching from the mountain down to the sea, provided everything Native Hawaiians needed to live. Inspired by the landscape diversity still contained within these slivers, Bike Hawaii founder John Alford fashioned a multi-sport tour to explore the breadth of the state's most visited ahupuaa: Waikiki.
"I really liked the concept … of seeing it all in one day," says Alford. "It's a great little slice of paradise." His company's Rainforest to Reef tour takes visitors hiking, biking and sailing through its natural splendor.
The experience begins with an easy 2-mile morning stroll through a patch of rainforest deep in Manoa Valley, where the company has exclusive access rights. Steering clear of often-visited Manoa Falls, the trek visits old loi kalo (taro terraces) and a rarely seen 200-foot waterfall. From there, a shuttle drives up into the green undulations of the Koolau Mountains—remnants of a single, massive super volcano—to Puu Ualakaa State Park (commonly known as Tantalus Lookout). At the top, aboard a KHS cruiser bike, you'll coast down 5 miles of sinuous Round Top Drive, stopping for lunch at a scenic ridge overlooking the sea, city and valley neighborhoods.
The final leg plies the offshore waters aboard a 40-foot catamaran departing from Kewalo Basin, where guides impart local knowledge about reef fish and help snorkelers spot common sea life: Honu (sea turtles), Hawaiian spinner dolphins and humpback whales (seasonally, November to February). The experience is an unlikely exploration of the nooks and crannies of an otherwise heavily trafficked region. Says Alford: "Everyday people from all around the world are getting to see Hawaii the way I grew up."

$175 for adults and $115 for kids 14 and under, (808) 734-4214, bikehawaii.com.