Bill Tapia plays final Royal Hawaiian weekend tonight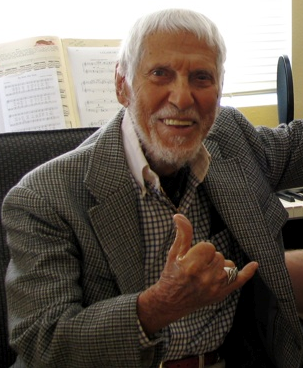 With Waikiki constantly changing and evolving, it's always good to see familiar faces return to its center stage.
This weekend, it's Bill Tapia, the Royal Hawaiian Hotel and the Monarch Room.
On Sunday, the venerable Royal Hawaiian will serve its last beachside mai tai before shuttering for a seven-month renovation. But first, it'll bring back a man who played the hotel's opening night 80 years ago—celebrated ukulele pioneer Bill Tapia.
Tapia will headline an evening of top local performers at the Monarch Room tonight—including award-winning Hawaii musicians Makana, Mihana Souza, Jeff Peterson and Owana Salazar. The show—dubbed "the Concert of the Century" by hotel brass— will honor the life and legend of the one-and-only Tapia, and give the "Pink Palace of the Pacific" a proper retro-tinged send-off.
At 100, Tapia is the world's oldest professional ukulele player—with no signs of slowing down his performance or recording schedule. His wit razor sharp and colorful, Tapia is also full of great stories. Need proof? Check out this interview clip from Honolulu television station KHON with Tapia recounting a high-flying memory of gigging with Louis Armstrong.
Great stuff.
Another reason to attend? The evening may also be the Monarch Room's swan song.
The Royal Hawaiian Hotel will reopen at the end of December after its $110 million facelift is complete. But the fate of its timeless ballroom, draped in gold and rich red velvet, is still uncertain. We've heard rumblings that the space will be filled by a new restaurant.
If you're on Oahu, don't pass up the chance to experience Tapia, the Royal and the Monarch together for one more night. Click here for more details, and some Tapia-at-the-Royal history.
While you're at it, share any memories you have of the trio with a comment below.